About Us
Welcome to BookAbout, the revolutionary platform for book lovers like us! We believe that finding the right book should be an enjoyable and effortless experience. As avid readers ourselves, we understand the frustration of searching through countless books by name or category, only to come up empty-handed.
That's why we created BookAbout, a platform that uses the latest AI technology to search through over 500,000 books to find the one that matches the idea of your query. With BookAbout, you can say goodbye to the traditional way of searching for books and hello to a new way of discovering your next favorite read.
We are dedicated to providing you with the best reading experience possible. We will be constantly updating our database to ensure that we have the latest books, and we're always working to improve our search algorithms to make your experience even better.
We invite you to join us on our journey of discovering the world of books. With BookAbout, you'll never have to settle for a mediocre book again. Start your search today and find your next literary adventure
246561
Worm Holes (Quantum Roots, #2)
No description available
17406
Ring (Xeelee Sequence, #4)
Michael Poole's wormholes constructed in the orbit of Jupiter had opened the galaxy to humankind. Then Poole tried looping a wormhole back on itself, tying a knot in space and ripping a hole in ti...me. It worked. Too well. Poole was never seen again. Then from far in the future, from a time so distant that the stars themselves were dying embers, came an urgent SOS—and a promise. The universe was doomed, but humankind was not. Poole had stumbled upon an immense artifact, light-years across, fabricated from the very string of the cosmos. The universe had a door. And it was open...Harry Harrison"Arthur C. Clarke, Isaac Asimov, Robert Heinlein...now Stephen Baxter joins their exclusive ranks!" -- New Scientist
122744
Starplex
The acclaimed author of Far-Seer and End of An Era embarks on a fantastic journey. A series of mysterious, artificial wormholes have brought the far reaches of space immediately close. But is the Eart...h ready for who--or what--the wormholes may bring?Library JournalMultiple award-winning Canadian author Sawyer offers an epic hard-science space adventure full of technical descriptions of starships and physics tempered by human concerns. In 2094, scientists on the Starplex study the mysterious artificial wormholes that make space travel routine and convenient. Then the wormholes' creators appear, and the scientists must understand and communicate with them to save the galaxy. Highly recommended for sf collections.
246802
The Worm and the Bird
No description available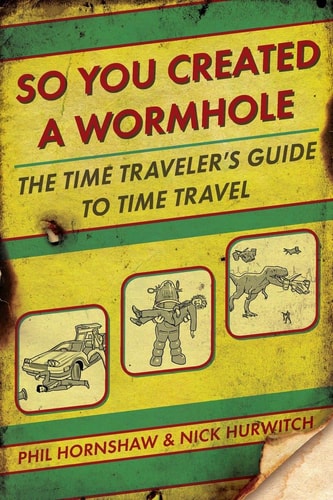 140275
So You Created a Wormhole: The Time Traveler's Guide to Time Travel
Welcome, intrepid temporal explorers, to the world's first and only field manual/survival guide to time travel! DON'T LEAVE THIS TIME PERIOD WITHOUT IT! Humans from H. G. Wells to Albert Einstein to B...ill & Ted have been fascinated by time travel-some say drawn to it like moths to a flame. But in order to travel safely and effectively, newbie travelers need to know the dos and don'ts. Think of this handy little book as the only thing standing between you and an unimaginably horrible death-or being trapped forever in another time or alternate reality. You get: Essential time travel knowledge: Choosing the right time machine, from DeLoreans to hot tubs to phone booths-and beyond What to say-and what NOT to say-to your doppelganger Understanding black holes and Stephen Hawking's term "spaghettification" (no, it's not a method of food preperation; yes, it is a horrifically painful way to meet your end) The connection between Einstein's General Theory of Relativity, traversing wormholes and the 88 mph speed requirement The possible consequences of creating a time paradox-including, but not limited to, the implosion of the universe Survival tips for nearly any sticky time travel situation: How to befriend a dinosaur and subsequently fight other dinosaurs with that dinosaur Instructions to build your very own Rube Goldberg Time Machine Crusading-for fun and profit Tips on battling cowboys, pirates, ninjas, samurai, Nazis, Vikings, robots and space marines How to operate a microwave oven Enjoying the servitude of robots and tips for living underground when they inevitably rise up against us
107734
Herbert's Wormhole
Herbert Slewg and his hapless, video game addicted neighbor Alex Filby have stumbled upon what Einstein could only theorize about: a wormhole through the space/time continuum. They travel 100 years in...to the future of their no-longer-boring town and are mistaken for alien slayers . . . in a world run by a benevolent alien race with cheerful Australian accents and uncomfortably fake facial hair. Herbert, Alex, and their mutual crush, Sammi Clementine, century-hop across time in order to outwit a disgruntled G Dalien. By foiling his evil plot, they save the planet and become 22nd-century hometown heroes in this smart-alecky (but friendly), inventive, wry, and very visual creation.Publishers WeeklyMore text-heavy than the subtitle suggests, this loopy debut opens as Alex's well-meaning parents buy the 10-year-old a jungle gym. They also arrange a playdate (Playdate? Alex hadn't had a playdate since he was seven) with neighbor Herbert, a compulsive inventor, who tinkers with the body suits that came with his AlienSlayer:3-D! video game. When he and Alex wear the suits on the jungle gym, the tubular slide becomes a wormhole that catapults them 100 years into the future. Their hometown is now inhabited by G'Daliens, aliens that speak with Australian accents and resemble giant squid wearing toupees and fake mustaches, a sight the boys find fall-down, pee-in-your-pants hilarious. The cartoony line art and wacky futuristic particulars should appeal most to readers whose sense of humor tends toward the absurd. Ages 8-12. Copyright © Reed Business Information, a division of Reed Elsevier Inc. All rights reserved.
172848
The Worm
No description available
282493
Explorations: Through the Wormhole
No description available
15157
Wormholes: Essays and Occasional Writings
No description available
154510
Bruce Coville's Book of Aliens: Tales to Warp Your Mind
No description available