About Us
Welcome to BookAbout, the revolutionary platform for book lovers like us! We believe that finding the right book should be an enjoyable and effortless experience. As avid readers ourselves, we understand the frustration of searching through countless books by name or category, only to come up empty-handed.
That's why we created BookAbout, a platform that uses the latest AI technology to search through over 500,000 books to find the one that matches the idea of your query. With BookAbout, you can say goodbye to the traditional way of searching for books and hello to a new way of discovering your next favorite read.
We are dedicated to providing you with the best reading experience possible. We will be constantly updating our database to ensure that we have the latest books, and we're always working to improve our search algorithms to make your experience even better.
We invite you to join us on our journey of discovering the world of books. With BookAbout, you'll never have to settle for a mediocre book again. Start your search today and find your next literary adventure
246870
The Wizards of Once (The Wizards of Once #1)
No description available
24067
Wizardology (Ologies, #3)
For Any Apprentice Determined To Learn The Arcane Arts Of Wizardry, Could There Be A Better Teacher Than... Merlin Himself? Originally Discovered In 1588, This Remarkable Text By History's Most Respec...ted Wizard Is Revealed To The World For The Very First Time. Lavishly Illustrated By Four Dedicated Artists, Wizardology's Intricate Design Even Conceals A Series Of Hidden Symbols That Spell Out A Secret Message When Their Code Is Deciphered-if The Reader Is Clever Enough To Find Them.
28722
Wizards: Magical Tales From the Masters of Modern Fantasy
A Collection Of Previously Unpublished Tales By Some Of The Masters Of Modern Fantasy Explores The World Of Wizards, Both Good And Bad, In Stories By Neil Gaiman, Jane Yolen, Peter S. Beagle, Tanith L...ee, Tad Williams, And Other Notable Authors. The Witch's Headstone / By Neil Gaiman -- Holly And Iron / By Garth Nix -- Color Vision / By Mary Rosenblum -- The Ruby Incomparable / By Kage Baker -- A Fowl Tale / By Eoin Colfer -- Slipping Sideways Through Eternity / By Jane Yolen -- The Stranger's Hands / By Tad Williams -- Naming Day / By Patricia A. Mckillip -- Winter's Wife / By Elizabeth Hand -- A Diorama Of The Infernal Regions, Or, The Devil's Ninth Question / By Andy Duncan -- Barrens Dance / By Peter S. Beagle -- Stone Man / By Nancy Kress -- The Manticore Spell / By Jeffrey Ford -- Zinder / By Tanith Lee -- Billy And The Wizard / By Terry Bisson -- The Magikkers / By Terry Dowling -- The Magic Animal / By Gene Wolfe -- Stonefather / By Orson Scott Card. Edited By Jack Dann And Gardner Dozois.
68516
The Wizard Test
No description available
71361
The Wizardry Cursed (Wiz, #3)
Once upon a time, Major Mick Gilligan, USAF, didn't believe in Magic. Nor, had he been told of it, would he have believed in the elf Lisella, or cared that she had cursed master programmer Wiz Zumwalt..., later of Cupertino and now of an alternate world where magic works like a computer program. But that was before he took his F-15 out over the Bering Sea on a top-priority intercept, came out on the losing end of a dogfight with a dragon, and found himself caught in a climactic battle that pitted Wiz and his fellow Silicon Valley hackers against a couple of computer criminals in alliance with the forces of primal chaos.Before he was done, Major Mick Gilligan would join with an ulikely gang of programmers, wizards, elves, dragon cavalry, gremlins, demons and a stolen Russian super-computer in a desperate effort to save both the world of magic and his own.
124900
The Way of the Wizard
No description available
27144
Diane Duane's Box of Wizardry
Magic comes in many shapes and sizes . . . such as this box of the first three titles in Diane Duane's bespelling, bestselling, compulsively readable Young Wizards series. Now So You Want to Be a Wiza...rd, Deep Wizardry, and High Wizardry are available in one handsome package, perfect for gift giving. Put this boxed set into the hands of young readers and make magic!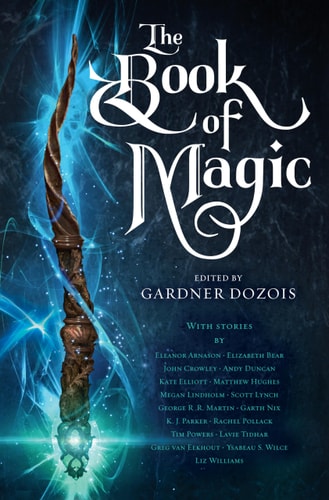 262088
The Book of Magic
An Anthology Celebrating The Witches And Sorcerers Of Epic Fantasy--featuring Stories By George R. R. Martin, Scott Lynch, Megan Lindholm, And Many More! Hot On The Heels Of Award-winning Editor Gard...ner Dozois's (rogues, Old Venus) Acclaimed Anthology The Book Of Swords Comes This Companion Volume Devoted To Magic. How Could It Be Otherwise? For Every Frodo, There Is A Gandalf...and A Saruman. For Every Dorothy, A Glinda...and A Wicked Witch Of The West. What Would Harry Potter Be Without Albus Dumbledore...and Severus Snape? Figures Of Wisdom And Power, Possessing Arcane, Often Forbidden Knowledge, Wizards And Sorcerers Are Shaped--or Misshaped--by The Potent Magic They Seek To Wield. Yet Though Their Abilities May Be Godlike, These Men And Women Remain Human...some Might Say All Too Human. Such Is Their Curse. And Their Glory. In These Pages, Seventeen Of Today's Top Fantasy Writers--including Award-winners K. J. Parker (the Two Of Swords), Megan Lindholm (the Windsingers), John Crowley (the Deep), Tim Powers (last Call), Liz Williams (snake Agent), Elizabeth Bear (eternal Sky Trilogy), George R. R. Martin (a Song Of Ice And Fire), Kate Elliott (the Court Of Fives Trilogy), Scott Lynch (the Republic Of Thieves), And More--cast Wondrous Spells That Thrillingly Evoke The Mysterious, Awesome, And At Times Downright Terrifying Worlds Where Magic Reigns Supreme: Worlds As Far Away As Forever...and As Near As Next Door--
53917
The Wizard's Statue
No description available
43092
The Wizard's Castle
No description available