About Us
Welcome to BookAbout, the revolutionary platform for book lovers like us! We believe that finding the right book should be an enjoyable and effortless experience. As avid readers ourselves, we understand the frustration of searching through countless books by name or category, only to come up empty-handed.
That's why we created BookAbout, a platform that uses the latest AI technology to search through over 500,000 books to find the one that matches the idea of your query. With BookAbout, you can say goodbye to the traditional way of searching for books and hello to a new way of discovering your next favorite read.
We are dedicated to providing you with the best reading experience possible. We will be constantly updating our database to ensure that we have the latest books, and we're always working to improve our search algorithms to make your experience even better.
We invite you to join us on our journey of discovering the world of books. With BookAbout, you'll never have to settle for a mediocre book again. Start your search today and find your next literary adventure
60338
Timescape
No description available
225486
Time Travel: A History
Best Books of 2016 BOSTON GLOBE * THE ATLANTIC From the acclaimed bestselling author of The Information and Chaos comes this enthralling history of time travel—a concept that has preoccupied physicist...s and storytellers over the course of the last century. James Gleick delivers a mind-bending exploration of time travel—from its origins in literature and science to its influence on our understanding of time itself. Gleick vividly explores physics, technology, philosophy, and art as each relates to time travel and tells the story of the concept's cultural evolutions—from H.G. Wells to Doctor Who, from Proust to Woody Allen. He takes a close look at the porous boundary between science fiction and modern physics, and, finally, delves into what it all means in our own moment in time—the world of the instantaneous, with its all-consuming present and vanishing future.
89437
The Book of Time (Book of Time, #1)
A statue; a coin; an old book. They look as dusty as everything else in the Faulkner Antiquarian Bookstore, where 14-year-old Sam Faulkner seeks his father, who's been missing for days. But when Sam s...lips the coin into the statue, he's swept back in time -- to Scotland in 800 A.D. -- where he must find both the statue and another coin in order to return to the present. It's the first step in an adventure that will take him to ancient Egypt, World War I, even Dracula's castle -- and a mystery that will end only when Sam saves his father, or loses him in time . . .Publishers WeeklyThis time-travel adventure by a French author reads like a book-long prelude to a much longer story, and it does, in fact, turn out to be a series opener. Fourteen-year-old Sam lives with his grandparents; since the death of his mother three years earlier, his incurably eccentric father, the owner of an antique bookstore, has gotten stranger and stranger. Prone to disappearing, he has been missing for 10 days, and Sam decides to investigate. While searching through the bookstore's basement, he finds a totem or a voodoo object, the kind of thing you see in horror films, where a terrible curse will strike whomever discovers it along with a dirty coin engraved with strange lines and symbols. Fitting the coin into the object, Sam wakes up in the era of the Vikings, just in time to save a monastery's illuminated manuscript from a raid. Subsequent adventures take him to WWI France, ancient Egypt, medieval Bruges-and give him just enough clues to point to his father's whereabouts, as a prisoner of Vlad the Impaler. Prévost sets up the various locations with lightning efficiency as Sam hurtles through one period after another; readers cannot afford to blink. This is a souped-up, older relative of the Magic Tree House books; kids who liked that brand of history and adventure but have outgrown the format will welcome the more sophisticated presentation here. Ages 9-12. (Sept.)Copyright 2007 Reed Business Information
79107
Time Travellers Omnibus
No description available
160457
Memoirs of a Time Traveler
No description available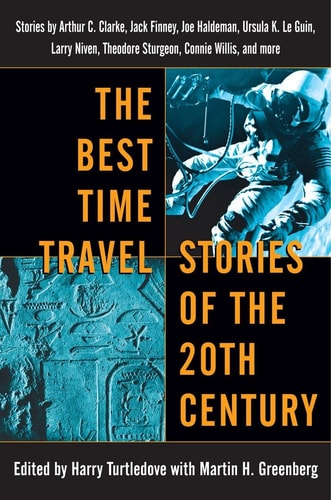 24302
The Best Time Travel Stories of the 20th Century
LEAP INTO THE FUTURE, AND SHOOT BACK TO THE PASTH. G. Wells's seminal short story "The Time Machine," published in 1895, provided the springboard for modern science fiction's t...ime travel explosion. Responding to their own fascination with the subject, the greatest visionary writers of the twentieth century penned some of their finest stories. Here are eighteen of the most exciting tales ever told, including"Time's Arrow" In Arthur C. Clarke's classic, two brilliant physicists finally crack the mystery of time travel–with appalling consequences."Death Ship" Richard Matheson, author of Somewhere in Time, unveils a chilling scenario concerning three astronauts who stumble upon the conundrum of past and future."A Sound of Thunder" Ray Bradbury's haunting vision of modern man gone dinosaur hunting poses daunting questions about destiny and consequences."Yesterday was Monday" If all the world's a stage, Theodore Sturgeon's compelling tale follows the odyssey of an ordinary joe who winds up backstage."Rainbird" R.A. Lafferty reflects on what might have been in this brainteaser about an inventor so brilliant that he invents himself right out of existence."Timetipping" What if everyone time-traveled except you? Jack Dann provides some surprising answers in this literary gem.. . . as well as stories by Poul Anderson • L. Sprague de Camp • Jack Finney • Joe Haldeman • John Kessel • Nancy Kress •Henry Kuttner • Ursula K. Le Guin • Larry Niven • Charles Sheffield • Robert Silverberg • Connie WillisBy turns frightening, puzzling, and fantastic, these stories engage us in situations that may one day break free of the bonds of fantasy . . . to enter the realm of the future: our future.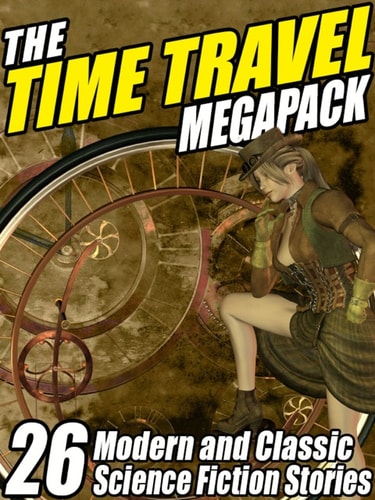 173088
The Time Travel Megapack (R): 26 Modern and Classic Science Fiction Stories
Time travel is one of the staples of science fiction, right up there with aliens, space opera, and robots. Most science fiction authors have written at least one time travel story. This collection sam...ples some of the best. TIME OUT, by Edward M. Lerner THESE STONES WILL REMEMBER, by Reginald Bretnor PROJECT MASTODON, by Clifford D. Simak 12:01 P.M., by Richard A. Lupoff TIME CONSIDERED AS A SERIES OF THERMITE BURNS IN NO PARTICULAR ORDER, by Damien Broderick TIME AND TIME AGAIN, by H. Beam Piper TRY, TRY AGAIN, by John Gregory Betancourt THE ETERNAL WALL, by Raymond Z. Gallun THE MAN FROM TIME, by Frank Belknap Long OF TIME AND TEXAS, by William F. Nolan THE EDGE OF THE KNIFE, by H. Beam Piper THROUGH TIME AND SPACE WITH FERDINAND FEGHOOT (10), by Grendel Briarton TIME BUM, by C.M. Kornbluth NEBOGIPFEL AT THE END OF TIME, by Richard A. Lupoff UNBORN TOMORROW, by Mack Reynolds LOST IN THE FUTURE, by John Victor Peterson THE WINDS OF TIME, by James H. Schmitz ARMAGEDDON -- 2419 A.D., by Philip Francis Nowlan THE MAN WHO SAW THE FUTURE, by Edmond Hamilton A TRAVELER IN TIME, by August Derleth THROUGH TIME AND SPACE WITH FERDINAND FEGHOOT (71), by Grendel Briarton FLIGHT FROM TOMORROW, by H. Beam Piper IN THE CRACKS OF TIME, by David Grace SWEEP ME TO MY REVENGE!, by Darrell Schweitzer THE SOLID MEN, by C.J. Henderson THROUGH TIME AND SPACE WITH FERDINAND FEGHOOT (Epsilon), by Grendel Briarton And don't forget to search this ebook store for "Wildside Megapack" to see many more entries in this series, covering westerns, mysteries, science fiction, pulp fiction, and much, much more!
112234
The Mammoth Book of Time Travel Romance
this Exciting Collection Contains 25 Short Tales Of Adventure And Love. Join The Dashing Characters As They Slip Through The Ages, Finding Themselves Transported Back To Settings Including Medieval Sc...otland, Sixteenth-century England, And The Nineteenth-century American West—or Sometimes Forward To The Present Day And Even The Future.
165714
The Mammoth Book of Time Travel SF
No description available
6533
The Time Travelers: Volume One
imagine Changing Centuries—and Making Things Worse, Not Better, On Both Sides Of Time.when 15-year-old Annie Lockwood Travels Back 100 Years And Lands In 1895, She At Last Finds Romance. But She... Is A Trespasser In Time. Will She Choose To Stay In The Past? And If She Does, Will She Be Allowed To Stay?