About Us
Welcome to BookAbout, the revolutionary platform for book lovers like us! We believe that finding the right book should be an enjoyable and effortless experience. As avid readers ourselves, we understand the frustration of searching through countless books by name or category, only to come up empty-handed.
That's why we created BookAbout, a platform that uses the latest AI technology to search through over 500,000 books to find the one that matches the idea of your query. With BookAbout, you can say goodbye to the traditional way of searching for books and hello to a new way of discovering your next favorite read.
We are dedicated to providing you with the best reading experience possible. We will be constantly updating our database to ensure that we have the latest books, and we're always working to improve our search algorithms to make your experience even better.
We invite you to join us on our journey of discovering the world of books. With BookAbout, you'll never have to settle for a mediocre book again. Start your search today and find your next literary adventure
269527
No Visible Bruises: What We Don't Know About Domestic Violence Can Kill Us
An Award-winning Journalist's Intimate Investigation Of The True Scope Of Domestic Violence, Revealing How The Roots Of America's Most Pressing Social Crises Are Buried In Abuse That Happens Behind Cl...osed Doors. We Call It Domestic Violence. We Call It Private Violence. Sometimes We Call It Intimate Terrorism. But Whatever We Call It, We Generally Do Not Believe It Has Anything At All To Do With Us, Despite The World Health Organization Deeming It A 'global Epidemic.' In America, Domestic Violence Accounts For 15 Percent Of All Violent Crime, And Yet It Remains Locked In Silence, Even As Its Tendrils Reach Unseen Into So Many Of Our Most Pressing National Issues, From Our Economy To Our Education System, From Mass Shootings To Mass Incarceration To #metoo. We Still Have Not Taken The True Measure Of This Problem. In [this Book], Journalist Rachel Louise Snyder Gives Context For What We Don't Know We're Seeing. She Frames This Urgent And Immersive Account Of The Scale Of Domestic Violence In Our Country Around Key Stories That Explode The Common Myths--that If Things Were Bad Enough, Victims Would Just Leave; That A Violent Person Cannot Become Nonviolent; That Shelter Is An Adequate Response; And, Most Insidiously, That Violence Inside The Home Is A Private Matter, Sealed From The Public Sphere And Disconnected From Other Forms Of Violence. Through The Stories Of Victims, Perpetrators, Law Enforcement, And Reform Movements From Across The Country, Snyder Explores The Real Roots Of Private Violence, Its Far-reaching Consequences For Society, And What It Will Take To Truly Address It. --dust Jacket. Part I: The End : -- Little Lunatics -- Barnacle Siblings -- Whatever He's Holding Inside -- Daddy Always Lives -- A Bear Is Coming At You -- This Person You Love Will Take Your Life -- And Then They'll Pray -- I Can't Live Here Anymore -- Systems, Accidents, Incidents -- And What Happens Next -- Part Ii: The Beginning : -- Penance -- Watching Violence In A Fishbowl -- The Fatal Peril Club -- Clustered At The Top -- The Haunting Presence Of The Inexplicable -- A Superhero's Kneecaps -- In The Season Of Unmitigated Discovery -- Those Who Break -- Part Iii: The Middle : -- In The Cracks -- Shelter In Place -- In The Fire -- Grace Under Pressure -- Chambering A Round -- Free Free -- Shadow Bodies. Rachel Louise Snyder. Includes Bibliographical References (pages 285-297) And Index.
30090
The Courage to Heal Workbook: A Guide for Women Survivors of Child Sexual Abuse
In this groundbreaking companion to The Courage to Heal, Laura Davis offers an inspiring, in-depth workbook that speaks to all women and men healing from the effects of child sexual abuse. The combina...tion of checklists, writing and art Projects, open-ended questions and activities expertly guides the survivor through the healing process. Survival Skills—Teaches survivors to create a safe, supportive environment, ask for help, deal with crisis periods, and choose therapy. Aspects Of Healing—Focuses on the healing process: gaining a capacity for hope, breaking silence, letting go of shame, turning anger into action, planning a confrontation, preparing for family contact, and affirming personal progress. Guidelines For Healing Sexually—Redefines the concept of "safe sex" and establishes healthy ground rules for sexual contact. Takes survivor step-by-step through healing process thru use of checklists, open-ended questions, writing exercises, etc.
34584
Breaking the Cycle
An eagerly awaited collection of stories dealing with domestic abuse, edited by the New York Times bestselling author Zane. Breaking the Cycle is a stunning and moving anthology of stories, each of wh...ich focuses on an aspect of domestic abuse. This powerful collection is sure to serve as a wake-up call for people either dealing with a domestic abuse situation, or those watching someone else endure it. In the title story, Zane describes the turmoil that a young girl suffers at the hands of her stepfather. The girl and her mother plan their escape, but at the last minute the mother falters. In D.V. Bernard's "The Lonely Echoes of My Youth," readers are introduced to a young boy raising himself on the fringes of a drug-infested neigborhood. Nane Quartay's provocative story, "The Grindstone," describes a boy who witnesses a brutal murder which will have far-reaching effects on him and his family. Tracy Price-Thompson weaves a powerful tale in "The Stranger" when a woman constantly abused by her husband finds inner strength after a brutal attack. Collen Dixon's "The Break of Dawn" will keep readers deep in thought long after they finish reading her story about a young desperate mother terrifed that her own daughter will grow up and become victimized herself. Dywane D. Birch's "Victory Begins With Me" reflects how one woman has to struggle to get her life back to normal. Shonda Cheekes' "Silent Suffering" flips the script when a man finds himself abused by the female in his life. Newcomer J.L. Woodson's "God Does Answer Prayers" deals with a young boy fighting for his life in a hospital bed, put there by one of the people who is supposed to love him the most: a parent. These stories capture the dangerous realities of domestic abuse, while also pointing toward the steps that need to be taken to break the cycle that perpetuates it. It is sure to serve as a rallying cry for all those who desire victory over their own victimization, and a guide for understanding the complex undercurrents that make such patterns possible.
186826
Invincible: The 10 Lies You Learn Growing Up with Domestic Violence, and the Truths to Set You Free
No description available
82249
In Fear of Her Life: The True Story of a Violent Marriage
No description available
94206
Fighting Back: A Battered Woman's Desperate Struggle to Survive
The shocking true story of a woman pushed to homicidal rage by the hands of her violent husband . . . Long before there were abuse hot lines and shelters for battered women, June Briand fired four bu...llets into her husband's head and was sentenced to fifteen years to life. This is the shocking true story of survival—and the intense bond June shared with her pathologically violent husband, a monster who physically and sexually tortured, degraded, and dominated her so relentlessly that she refused to believe he was dead even after she killed him. What kind of woman would slay her own husband? What kind of man would drive her to do it? Why didn't she just leave him? Based on extensive interviews with June Briand, FIGHTING BACK explores these difficult questions while exposing the twisted sadomasochistic dynamics of a relationship that enslaves a woman—and drives her to kill. At once terrifying and maddening, heartrending and ultimately exhilarating— including an unforgettable glimpse at life inside a maximum security prison—FIGHTING BACK is a book you will never forget.
293795
Cruel: One Child's Story To Survive
No description available
177075
Battered (Toxic Thoughts, #1)
No description available
158396
Living with the Dominator
No description available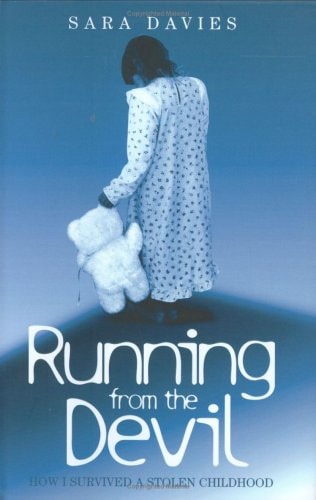 62100
Running from the Devil: How I Survived a Stolen Childhood
No description available