About Us
Welcome to BookAbout, the revolutionary platform for book lovers like us! We believe that finding the right book should be an enjoyable and effortless experience. As avid readers ourselves, we understand the frustration of searching through countless books by name or category, only to come up empty-handed.
That's why we created BookAbout, a platform that uses the latest AI technology to search through over 500,000 books to find the one that matches the idea of your query. With BookAbout, you can say goodbye to the traditional way of searching for books and hello to a new way of discovering your next favorite read.
We are dedicated to providing you with the best reading experience possible. We will be constantly updating our database to ensure that we have the latest books, and we're always working to improve our search algorithms to make your experience even better.
We invite you to join us on our journey of discovering the world of books. With BookAbout, you'll never have to settle for a mediocre book again. Start your search today and find your next literary adventure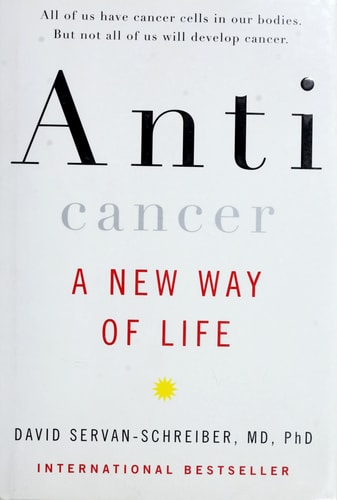 103729
Anticancer, A New Way of Life
A Radical Synthesis Of Science And Personal Experience That Advocates A Sea Change In The Way We Understand And Confront Cancer. One Story -- Escaping Statistics -- Danger And Opportunity -- Cancer's ...Weaknesses -- Breaking The News -- The Anticancer Environment -- Lessons Of A Relapse -- The Anticancer Foods -- The Anticancer Mind -- Defusing Fear -- The Anticancer Body -- Learning To Change -- Conclusion -- Ten Precautions For Cell Phone Use. David Servan-schreiber. Includes Bibliographical References (p. [215]-243) And Index.
115423
The Survivors Club: The Secrets and Science that Could Save Your Life
No description available
13991
The Cancer Journals
No description available
172523
Radical Remission: Surviving Cancer Against All Odds
In her New York Times bestseller, Radical Remission: Surviving Cancer Against All Odds, Dr. Kelly A. Turner, founder of the Radical Remission Project, uncovers nine factors that can lead to a spontane...ous remission from cancer—even after conventional medicine has failed. While getting her Ph.D. at the University of California, Berkley, Dr. Turner, a researcher, lecturer, and counselor in integrative oncology, was shocked to discover that no one was studying episodes of radical (or unexpected) remission—when people recover against all odds without the help of conventional medicine, or after conventional medicine has failed.  She was so fascinated by this kind of remission that she embarked on a ten month trip around the world, traveling to ten different countries to interview fifty holistic healers and twenty radical remission cancer survivors about their healing practices and techniques. Her research continued by interviewing over 100 Radical Remission survivors and studying over 1000 of these cases.  Her evidence presents nine common themes that she believes may help even terminal patients turn their lives around.
38551
Our Cancer Year
It was they year of Desert Storm that Harvey Pekar and his wife, Joyce Brabner, discovered Harvey had cancer. Pekar, a man who has made a profession of chronicling the Kafkaesque absurdities of an ord...inary life (if any life is ordinary) suddenly found himself incapacitated. But he had a better-than-average chance to beat cancer and he took it — kicking, screaming, and complaining all the way. Pekar and Brabner draw on this and other trials to paint a portrait of a man beset with fears real and imagined — who survives.
215124
A Series of Catastrophes and Miracles: A True Story of Love, Science, and Cancer
A wry, witty account of what it is like to face death—and be restored to life. After being diagnosed in her early 40s with metastatic melanoma—a "rapidly fatal" form of cancer—journalist and mother of... two Mary Elizabeth Williams finds herself in a race against the clock. She takes a once-in-a-lifetime chance and joins a clinical trial for immunotherapy, a revolutionary drug regimen that trains the body to vanquish malignant cells. Astonishingly, her cancer disappears entirely in just a few weeks. But at the same time, her best friend embarks on a cancer journey of her own—with very different results. Williams's experiences as a patient and a medical test subject reveal with stark honesty what it takes to weather disease, the extraordinary new developments that are rewriting the rules of science—and the healing power of human connection.
18537
Dr. Susan Love's Breast Book
Now in a completely updated new edition-the most trusted, most authoritative guide to breast cancer diagnosis and treatment Book Review Digest The information is accurate, complete, current, informat...ive, and highly readable to the layperson as well as the professional caregiver.
60022
Because Cowards Get Cancer Too: A Hypochondriac Confronts His Nemesis
In the face of such overwhelming statistical possibilities, hypochondria has always seemed to me to be the only rational position on life." So begins this caustically funny and informative account o...f living with cancer from a self-professed coward who's nevertheless unafraid to take on the myths and taboos of the illness. First diagnosed with cancer in March 1997, journalist John Diamond determined to chronicle the experience for the millions of people facing the same baffling process of diagnosis and treatment. His is a refreshingly clear-eyed take for those readers who likewise instinctively rebel when told that to "wage war with their cancer" they must chant, channel, laugh, breathe, group-hug, or sport a halo for sainthood or a medal for bravery. Diamond's is a distinctly more curmudgeonly stance. With humor and intelligence, Diamond ex- plains how he coped with dilemmas every person recently diagnosed with cancer must confront: the awkwardness of "telling"; the need to shrug off the unearned mantle of "brave soul"; friends' sudden inability to speak openly; intrusions by well-intentioned purveyors of alternative health solutions; battles with good, bad, and indifferent doctors; dealing with treatment gains and setbacks; tension on the home front; and more. Most important, he describes how he's learned to live with uncertainty, the ultimate hallmark of the human condition. A number one bestseller in England, Because Cowards Get Cancer Too is destined to become a classic in the literature of full-frontal assault on the body, next to such works as Jean-Dominique Bauby's The Diving Bell and the Butterfly and Robert Lipsyte's In the Country of Illness.Diamond's gorgeous writing, sense of wit, and fierce intelligence make this a reader's book as well as a road map for a journey that touches almost everyone.
228280
The Truth about Cancer: What You Need to Know about Cancer's History, Treatment, and Prevention
No description available
96067
Crazy Sexy Cancer Survivor: More Rebellion and Fire for Your Healing Journey
On the heels of Kris Carr's acclaimed Learning Channel documentary and best-selling survival guidebook Crazy Sexy Cancer Tips comes this survivor's companion. With this beautifully illustrated, g...o-anywhere resource, Kris redefines what it means to be a survivor. She invites all the Cancer Cowgirls (and dudes) out there to slide into the driver's seat, turn on their own internal GPS, and become empowered participants in their own healing journey. Pairing her signature sass and smart, soulful, real advice with thoughtful exercises, new contributors, and space for writing and reflecting, Crazy Sexy Cancer Survivor reaffirms that it is possible to live a real, fun, crazy, sexy life with cancer—that healing is about truly living.