About Us
Welcome to BookAbout, the revolutionary platform for book lovers like us! We believe that finding the right book should be an enjoyable and effortless experience. As avid readers ourselves, we understand the frustration of searching through countless books by name or category, only to come up empty-handed.
That's why we created BookAbout, a platform that uses the latest AI technology to search through over 500,000 books to find the one that matches the idea of your query. With BookAbout, you can say goodbye to the traditional way of searching for books and hello to a new way of discovering your next favorite read.
We are dedicated to providing you with the best reading experience possible. We will be constantly updating our database to ensure that we have the latest books, and we're always working to improve our search algorithms to make your experience even better.
We invite you to join us on our journey of discovering the world of books. With BookAbout, you'll never have to settle for a mediocre book again. Start your search today and find your next literary adventure
63020
Starting Over
Robin Pilcher, bestselling author of An Ocean Apart returns readers to contemporary Scotland, where the "simple" life has grown somewhat more complicated, but the shortest distance between lonely hear...ts will always be love...Sometimes The Hardest Thing In Life...Liz Dewhurst has witnessed quite a bit in her thirty-seven years: the birth of her son, the death of her mother, the waxing and waning days on the farm where she was raised...the sight of her husband in another woman's arms. Suddenly, she's feeling worn down and used up by the very lifestyle upon which she once thrived. Bitterness at her broken marriage has distanced her from her son, Alex-even as she's poured all her remaining energy into battling the development company that wants to purchase her family's land to build a golf course....Is To Live ItNow Liz must confront a few things, including the fate of the farm, her feelings for her ex-husband, and a trip to Spain that rekindles a fire in her she had forgotten existed. The Liz who returns to Balmuir is a different woman. Now, in the wake of a near-tragedy, she must draw on her newfound strength to make a difficult choice. To look at her life in a different way, standing tall, and...Starting Over"Pilcher writes with an excellent sense of the pace of his story. It's easy to feel you know these people and to grasp the complexities of their relationships...a worthy novel." -Houston Chronicle"[Pilcher's] characters are ordinary people enriched by [the] quiet rendering of their lives in a tale [with] lots of emotion...one of those smart, charming stories that leaves readers feeling content and very happy that they chose to read it." -BooklistPublishers WeeklyPilcher's sophomore and sophomoric effort (after his New York Times bestselling An Ocean Apart) is all about second chances: second chances for romance, of course, but also for loving relationships between fathers and sons. The central soap revolves around Liz Dewhurst, now living on the family farm in the Scottish coastal village of Fife, following the bustup of her 18-year marriage. Potential love interests include an older Canadian professor who becomes her boarder, his estranged son, and Gregor, Liz's adulterous ex, who's always hovering around the sidelines. Meanwhile, the future of the farm is in question, with developers threatening to build a golf course in its place. Clunky storytelling, unlikely dialogue from characters who speechify rather than speak ("You can't change destiny, lass. You can't get your pebble back once you've thrown it") and a lack of tension are prime culprits in leaching the pleasure from a book presented as the novelistic equivalent of easy-listening music. Gregor is the closest thing to a villain here, but even he is a decent sort at heart. Furthermore, American readers may find it hard to credence American characters made to say things like, "I was just being bloody-minded." Although the last line of the book suggests otherwise ("Life does have a funny way of throwing up the least-expected things"), there's nothing unexpected here. (Jan.) Forecast: The same readers who made An Ocean Apart a bestseller (especially fans of Rosamunde Pilcher, the author's mother) may do so again. Judging by the 100,000-copy first printing, national advertising campaign and author tour, St. Martin's expects so. Copyright 2001 Cahners Business Information.
283130
A Beginning at the End: a novel
How Do You Start Over After The End Of The World? Not Just An Apocalyptic Thriller, But Also A Timely Reminder Of What Is Most Important In Life—family, Love, And Hope." —peng Shepherd, Author Of The ...Book Of M Six Years After A Global Pandemic Wiped Out Most Of The Planet's Population, The Survivors Are Rebuilding The Country, Split Between Self-governing Cities, Hippie Communes And Wasteland Gangs.in Postapocalyptic San Francisco, Former Pop Star Moira Has Created A New Identity To Finally Escape Her Past—until Her Domineering Father Launches A Sweeping Public Search To Track Her Down. Desperate For A Fresh Start Herself, Jaded Event Planner Krista Navigates The World On Behalf Of Those Too Traumatized To Go Outside, Determined To Help Everyone Move On—even If They Don't Want To. Rob Survived The Catastrophe With His Daughter, Sunny, But Lost His Wife. When Strict Government Rules Threaten To Separate Parent And Child, Rob Needs To Prove Himself Worthy In The City's Eyes By Connecting With People Again.krista, Moira, Rob And Sunny Are Brought Together By Circumstance, And Their Lives Begin To Twine Together. But When Reports Of Another Outbreak Throw The Fragile Society Into Panic, The Friends Are Forced To Finally Face Everything That Came Before—and Everything They Still Stand To Lose. Because Sometimes Having One Person Is Enough To Keep The World Going.
115722
Starting Over
No description available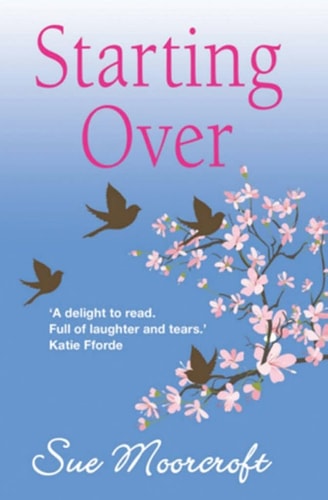 118205
Starting Over
No description available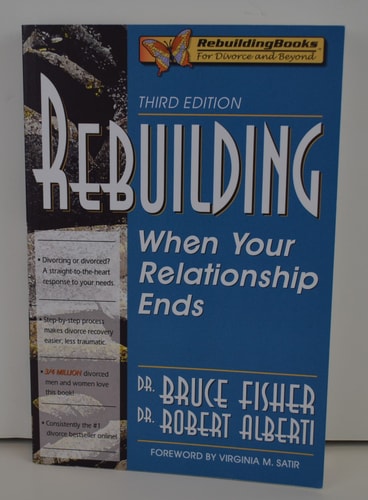 41266
Rebuilding: When Your Relationship Ends (Rebuilding Books; For Divorce and Beyond)
This revised, updated third edition of the international bestseller is built on more than two decades of research and practice, incorporating feedback and life experiences of hundreds of thousands of ...divorced men and women who have read and used Rebuilding. This book has spawned thousands of divorce recovery groups in the U.S.A., Canada, Australia, New Zealand, Mexico, Finland and elsewhere. Fisher's thorough understanding and presentation of the nineteen-stage divorce recovery process is remarkable. Clearly the most widely used approach to divorce recovery, Fisher's rebuilding model has made the divorce process less traumatic, even healthier, for his readers. They often comment, "He seems to know exactly what I'm feeling!" This new edition, revised and updated with the assistance of psychologist and marriage and family therapist Dr. Robert Alberti, continues Bruce's tradition of straight-to-the-heart response to the needs of those who are divorcing or divorced. Journal of Divorce - Esther Oshiver Fisher ...a handbook for the divorcing and divorced that is authentic and which they can employ in the rebuilding of their own lives.
212177
Fresh Start: Welcome to Your New Life!
No description available
268052
Start Again (Start Again Series #1)
No description available
171875
Starting Over
A Collection Of Nine Short Stories Explores The Emotional Fault Lines That Lie Just Beneath The Surface Of Happy Family Life. Return Trip -- The Boy In The Tree -- Sightings -- Rising Tide -- The Ever...lasting Light -- On The Hill -- Blackie -- Christmas Longings -- The Wedding Visitor. Elizabeth Spencer.
62730
Starting Over
No description available
250334
Begin Again: The Brave Practice of Releasing Hurt and Receiving Rest
No description available