About Us
Welcome to BookAbout, the revolutionary platform for book lovers like us! We believe that finding the right book should be an enjoyable and effortless experience. As avid readers ourselves, we understand the frustration of searching through countless books by name or category, only to come up empty-handed.
That's why we created BookAbout, a platform that uses the latest AI technology to search through over 500,000 books to find the one that matches the idea of your query. With BookAbout, you can say goodbye to the traditional way of searching for books and hello to a new way of discovering your next favorite read.
We are dedicated to providing you with the best reading experience possible. We will be constantly updating our database to ensure that we have the latest books, and we're always working to improve our search algorithms to make your experience even better.
We invite you to join us on our journey of discovering the world of books. With BookAbout, you'll never have to settle for a mediocre book again. Start your search today and find your next literary adventure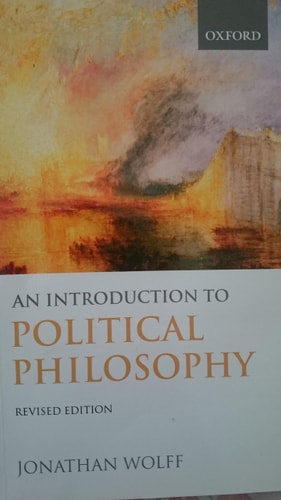 9700
An Introduction to Political Philosophy
What would life be like without the state? What justifies the state? Who should rule? How much liberty should the citizen enjoy? How should property be justly distributed? This book examines the centr...al problems involved in political philosophy and the past attempts to respond to these problems. Jonathan Wolff looks at the works of Plato, Hobbes, Locke, Rousseau, Mill, Marx, and Rawls (among others), examining how the debates between philosophers have developed, and searching for possible answers to these provocative questions. His final chapter looks at more recent issues, particularly feminist political theory.
23982
Political Philosophy: A Very Short Introduction
This Very Short Introduction introduces readers to the key concepts of political philosophy: authority, democracy, freedom and its limits, justice, feminism, multiculturalism, and nationality. Accessi...bly written and assuming no previous knowledge of the subject, it encourages the reader to think clearly and critically about the leading political questions of our time. Miller first investigates how political philosophy tackles basic ethical questions such as 'how should we live together in society?' He furthermore looks at political authority, discusses the reasons society needs politics in the first place, explores the limitations of politics, and asks if there are areas of life that shouldn't be governed by politics. Moreover, he explores the connections between political authority and justice, a constant theme in political philosophy, and the ways in which social justice can be used to regulate rather than destroy a market economy. In his travels through this realm, Miller covers why nations are the natural units of government and wonders if the rise of multiculturalism and transnational co-operation will change all this, and asks in the end if we will ever see the formation of a world government. About the Series: Combining authority with wit, accessibility, and style, Very Short Introductions offer an introduction to some of life's most interesting topics. Written by experts for the newcomer, they demonstrate the finest contemporary thinking about the central problems and issues in hundreds of key topics, from philosophy to Freud, quantum theory to Islam.
167051
The Politics Book: Big Ideas Simply Explained
No description available
9722
Contemporary Political Philosophy
This new edition of Will Kymlicka's best selling critical introduction to contemporary political theory has been fully revised to include many of the most significant developments in Anglo-American po...litical philosophy in the last 11 years, particularly the new debates over issues of democratic citizenship and cultural pluralism. The book now includes two new chapters on citizenship theory and multiculturalism, in addition to updated chapters on utilitarianism, liberal egalitarianism, libertarianism, socialism, communitarianism, and feminism. The many thinkers discussed include G. A. Cohen, Ronald Dworkin, William Galston, Carol Gilligan, R. M. Hare, Chandran Kukathas, Catherine Mackinnon, David Miller, Philippe Van Parijs, Susan Okin, Robert Nozick, John Rawls, John Roemer, Michael Sandel, Charles Taylor, Michael Walzer, and Iris Young. Extended guides to further reading have been added at the end of each chapter, listing the most important books and articles on each school of thought, as well as relevant journals and websites. Covering some of the most advanced contemporary thinking, Will Kymlicka writes in an engaging, accessible, and non-technical way to ensure the book is suitable for students approaching these difficult concepts for the first time. This second edition promises to build on the original edition's success as a key text in the teaching of modern political theory.
92320
Politics
politics Is A New Kind Of Politics Textbook. Stimulating, Succinct And Accessible, It Offers A Truly Comprehensive Introduction To The Study Of Politics, Written From An International Perspective. Thi...s Second Edition Takes Full Account Of New Developments Such As Debates About Globalization, The Impact Of The Mass Media, And The Shift From Government To Governance. It Also Includes New Boxed Material On Major Thinkers And Key Concepts.
9707
History of Political Philosophy
An ... Introduction To The Thought Butors To The Western Tradition Of Political Philosophy From Classical Greek Antiquity To The Twentieth Century. Writtenby Experts On The Various Philosophers ... Th...e Thirs Edition ... Has Been Expanded To Include Thucydides And Xenophon ... And ... Edmund Husserl And Martin Heidegger. An Essay Has Been Added ... On The Deceased Editor, Leo Strauss. New Essays Have Been Written On Aristotle, Burke, And Bentham And James Mill ... The Contributors To This Volume Aim At Encouraging The Reader To Understand The Work Of Each Philosopher As He Himself Did, Rather Than As A Phenomenon Of Intellectual Or Social History--publisher's Description. Thucydides / David Bolotin -- Plato / Leo Strauss -- Xenophon / Christopher Bruell -- Aristotle / Carnes Lord -- Marcus Tullius Cicero / James E. Holton -- St. Augustine / Ernest L. Fortin -- Alfarabi / Muhsin Mahdi -- Moses Maimonides / Ralph Lerner -- St. Thomas Aquinas / Ernest L. Fortin -- Marsilius Of Padua / Leo Strauss -- Niccolo Machiavelli / Leo Strauss -- Martin Luther And John Calvin / Duncan B. Forrester -- Richard Hooker / Duncan B. Forrester -- Francis Bacon / Howard B. White -- Hugo Grotius / Richard H. Cox -- Thomas Hobbes / Laurence Berns -- Rene Descartes / Richard Kennington -- John Milton / Walter Berns -- Benedict Spinoza / Stanley Rosen -- John Locke / Robert A. Goldwin -- Montesquieu / David Lowenthal -- David Hume / Robert S. Hall -- Jean-jacques Rousseau / Allan Bloom -- Immanuel Kant / Pierre Hassner -- William Blackstone / Herbert J. Storing -- Adam Smith / Joseph Cropsey -- The Federalist / Martin Diamond -- Thomas Paine / Francis Canavan -- Edmund Burke / Harvey Mansfield, Jr. -- Jeremy Bentham And James Mill / Timothy Fuller -- Georg W.f. Hegel / Pierre Hassner; Translated By Allan Bloom -- Alexis De Tocqueville / Marvin Zetterbaum -- John Stuart Mill / Henry M. Magid -- Karl Marx / Joseph Cropsey -- Friedrich Nietzsche / Werner J. Dannhauser -- John Dewey / Robert Horwitz -- Edmund Husserl / Richard Velkley -- Martin Heidegger / Michael Gillespie -- Epilogue: Leo Strauss And The History Of Political Philosophy / Nathan Tarcov And Thomas L. Pangle. Edited By Leo Strauss And Joseph Cropsey. Includes Bibliographies And Index.
153152
On Politics: A History of Political Thought From Herodotus to the Present
Three decades in the making, one of the most ambitious and comprehensive histories of political philosophy in nearly a century. Both a history and an examination of human thought and behavior spanning... three thousand years, On Politics thrillingly traces the origins of political philosophy from the ancient Greeks to Machiavelli in Book I and from Hobbes to the present age in Book II. Whether examining Lord Acton's dictum that "absolute power corrupts absolutely" or explicating John Stuart Mill's contention that it is "better to be a human dissatisfied than a pig satisfied," Alan Ryan evokes the lives and minds of our greatest thinkers in a way that makes reading about them a transcendent experience. Whether writing about Plato or Augustine, de Toqueville or Thomas Jefferson, Ryan brings a wisdom to his text that illuminates John Dewey's belief that the role of philosophy is less to see truth than to enhance experience. With this unparalleled tour de force, Ryan emerges in his own right as one of the most influential political philosophers of our time.
94610
Political Theory: An Introduction
heywood (government And Politics, Croydon College) Offers An Accessible Introduction To Political Theory And The Key Concepts Of Political Analysis. In Each Chapter, He Discusses A Cluster Of Interrel...ated Terms, Examining How They Have Been Used By Different Thinkers And Schools Of Thought. The Book Is Designed To Build Understanding Of Both Classical Theories And Also Of Contemporary Debates And Controversies. This Third Edition Adds Extended Coverage Of Issues Such As Identity And Difference, Multiculturalism, Globalization, And Utopianism. Annotation ©2004 Book News, Inc., Portland, Or booknews new Edition Of A Text That Introduces Political Theory And The Key Concepts In Political Analysis, Referring To Both Classical Theories And Contemporary Issues And Arguments. In Each Chapter, Heywood (course Director For Politics, And Director Of Studies At Orpington College) Presents A Cluster Of Interrelated Terms, Examines How They Have Been Used By Different Thinkers And In The Various Traditions, And Explores Related Debates And Controversies. Annotation C. Book News, Inc., Portland, Or (booknews.com)
76207
The Great Political Theories, Volume 1
The philosophy of politics As an introduction to political theory and science, this collection of writings by the great philosophers will be of close interest to general readers. It also forms a basic... textbook for students of government and political theory. Such fundamental concepts as Democracy, the Rule of Law, Justice, Natural Rights, Sovereignty, Citizenship, Power, the State, Revolution, Liberty, Reason, Materialism, Toleration, and the Place of Religion in Society are traced from their origins, through their development and changing patterns, to show how they guide political thinking and institutions today. And new in this edition, examinations of selected works by Sophocles, Francois Hotman, and Francisco Suarez. Also new are a detailed table of contents and an up-dated, comprehensive bibliography—each clear and concise for easy reference. The second volume of Professor Curtis' work, also available in a Discus edition, includes the writings of the eighteenth, nineteenth, and twentieth century thinkers—from Burke, Rousseau, and Kant to modern times.
182438
30-Second Politics: The 50 Most Thought-Provoking Theories in Politics: The 50 Most Thought-Provoking Theories in Politics
You May Be Ok With Standard Stuff Like Conservatism And Democracy, But Do You Really Know What Patrimonialism Is? And What About Oligarchy? Anarcho-syndicalism? Politics Is, We Are Willing To Bet, The... Most Passionately Argued-over Subject Matter, And Yet How Many Of Us Flounder Around In Confrontational Debates Because We Have No Grip On Political Theory, Just A Vague Notion That They Are All Out To Get Us? 30-second Politics Will Help Dispel This Fog Mistrust And Paranoia. It Challenges Political Theorists Of All Colors To Come Up With No-frill, No-spin, Tell-it-like-it-is Explanations Of The 50 Most Important Political -isms, -archies, And -ocracies That Have Pertained Since The Time Of Periclean Athens. At No Public Expense, The Book Explains Each Political Theory In Nothing More Than Two Pages, 300 Words, And Some Propaganda-style Imagery, For We All Know That A Picture Opportunity Is Worth A Thousand Words Of Dull Interview.