About Us
Welcome to BookAbout, the revolutionary platform for book lovers like us! We believe that finding the right book should be an enjoyable and effortless experience. As avid readers ourselves, we understand the frustration of searching through countless books by name or category, only to come up empty-handed.
That's why we created BookAbout, a platform that uses the latest AI technology to search through over 500,000 books to find the one that matches the idea of your query. With BookAbout, you can say goodbye to the traditional way of searching for books and hello to a new way of discovering your next favorite read.
We are dedicated to providing you with the best reading experience possible. We will be constantly updating our database to ensure that we have the latest books, and we're always working to improve our search algorithms to make your experience even better.
We invite you to join us on our journey of discovering the world of books. With BookAbout, you'll never have to settle for a mediocre book again. Start your search today and find your next literary adventure
2362
Political Fictions
In 1988, Joan Didion began looking at the American political process for The New York Review of Books. What she found was not a mechanism that offered the nation's citizens a voice in its affairs but ...one designed by and for that handful of insiders who invent, year in and year out, the narrative of public life.Book MagazineThough hardly unpredictable, the title Political Fictions does not quite do justice to Joan Didion's biting new collection of essays. After all, for decades now, Didion has been warning us about the seductions of storytelling about the way collective myths determine our fates and misshape our lives. No surprise, then, that when Didion turns to political subjects, she should find another example of the issue. The essays collected in this volume, all of which debuted in The New York Review of Books between 1988 and 2000, are the first of Didion's work to focus on the competitive arena of electoral politics. They track the path of the nation's political culture, from Michael Dukakis' humiliation at the hands of George Bush, through Bill Clinton's impeachment trial, through the soporific rhetoric and bitter struggles of the 2000 presidential campaign. In every scene, Didion discovers signs of a single, fundamental problem: "The political process ... [does] not reflect but increasingly ... [proceeds] from a series of fables about American experience." Democracy, as Didion sees it, is not a system of majority rule or an expression of voter choice; it is a cheap spectacle acted out by the craven officials and smug journalists of Washington's "political class." The observation is not entirely new. Back in the 1920s, in his influential polemic Public Opinion, Walter Lippman first pointed out that the citizens of mass democracies were less political actors than the acted upon. They did not intelligently direct their public servants; they were the deluded creatures of media manipulation. Like many other subsequent critics, Didion echoes Lippman's argument and updatesit by showing how Lippman's case has become more persuasive with the dominance of television and the triumph of the focus group. But the lesson Didion draws from this situation and the feature that lends her book its incandescent power is the direct reverse of her predecessor's. Lippman claimed that the overwhelming complexity of modern society made ordinary voters credulous and inept; the nation's affairs would have to be directed, therefore, by a professional elite. Didion is outraged by that notion. That Lippman's predictions seem to have come to pass, that masses of citizens can't be bothered to vote and that still larger numbers seem to feel insensibly numbed by politics-as-usual inspires Didion to prophetic rage. "Half the nation's citizens," she thunders, have "only a vassal relationship to the government under which they [live]." The real subject of these pieces, in other words, appears in one of the book's two essays on the Clinton scandal: "disenfranchising America." In truth, Didion's moral disquiet has always been part of the power of her writing. While her new-journalistic contemporaries were enthusing over the giddy variety of American life during the '60s and '70s, Didion's essays turned time and again to portents that matters were going awry. There were always hints of moral panic beneath the elegantly chiseled surface of her prose, a feeling that America seemed headed down some increasingly dark and uncontrollable paths. Now, turning from the nooks and crannies of ordinary life on which her essays once focused to cast her attention to Washington, Didion lets her fury out of the bag. The essays in Political Fictions grow increasingly angry as the book moves along. They begin, with the 1988 presidential campaign, in a tone of weary knowingness, as Didion laments the tranquilizing of political life beneath "the narcosis of the [media] event." By the time she reaches the Clinton scandal, they have turned into barely restrained rage. The shocking title of Didion's essay on the media coverage of that event, "Vichy Washington," sums up the core of her thinking and some of the risks of the passion she brings to it. Throughout Political Fictions, Didion rides particularly hard on political journalists. They have compromised their special mission by falling beneath the spell of the Capitol, she argues, and her essays dissect their grandstanding with pitiless, and often breathtaking, intelligence. Yet convincing as her case may be, there is surely something wrong in the suggestion that the nation's mediacrats are not just self-serving or misguided but collaborators with an occupying power. Challenging one set of political fables, Didion threatens to replace them with a rather melodramatic narrative of her own. Indeed, so forceful is Didion's polemic that it's easy to forget that a number of her assertions are dubious. That the nation's voters are longing for candidates who will care more about issues than "character," that citizens who don't vote have become "vassals" of a parasitic elite, that electoral politics are driven by "fictions" and have little to do with genuine conflicts of interest and belief these are all questionable notions, and they bear the hallmarks of their own kind of fable. Such is the anger and beauty of Didion's work, though, that while one reads, it is hard not to nod one's head in assent. Sean McCann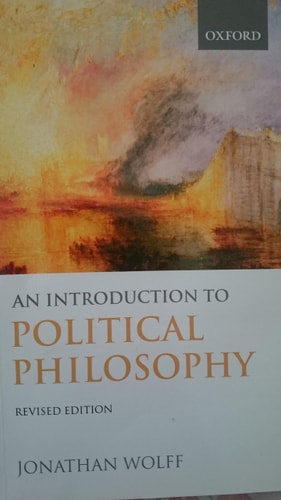 9700
An Introduction to Political Philosophy
What would life be like without the state? What justifies the state? Who should rule? How much liberty should the citizen enjoy? How should property be justly distributed? This book examines the centr...al problems involved in political philosophy and the past attempts to respond to these problems. Jonathan Wolff looks at the works of Plato, Hobbes, Locke, Rousseau, Mill, Marx, and Rawls (among others), examining how the debates between philosophers have developed, and searching for possible answers to these provocative questions. His final chapter looks at more recent issues, particularly feminist political theory.
167051
The Politics Book: Big Ideas Simply Explained
No description available
29781
Politics: A Very Short Introduction
In This Essay, Kenneth Minogue Discusses The Development Of Politics From The Ancient World To The Twentieth Century. He Prompts Us To Consider Why Political Systems Evolve, How Politics Offers Both P...ower And Order In Our Society, Whether Democracy Is Always A Good Thing, And What Future Politics May Have In The Twenty-first Century.--jacket. Why Despots Don't Belong In Politics. -- The Classical Greeks: How To Be A Citizen. -- The Romans: The Real Meaning Of Patriotism. -- Christianity And The Rise Of The Individual. -- Constructing The Modern State. -- How To Analyse A Modern Society. -- Relations Between States: How To Balance Power. -- The Experience Of Politics I: How To Be An Activist. -- The Experience Of Politics Ii: Parties And Doctrines. -- The Experience Of Politics Iii: Justice, Freedom, And Democracy. -- Studying Politics Scientifically. -- Ideology Challenges Politics. -- Can Politics Survive The Twenty-first Century? Kenneth Minogue. Originally Published: 1995. Includes Bibliographical References (p. 112-113) And Index.
92320
Politics
politics Is A New Kind Of Politics Textbook. Stimulating, Succinct And Accessible, It Offers A Truly Comprehensive Introduction To The Study Of Politics, Written From An International Perspective. Thi...s Second Edition Takes Full Account Of New Developments Such As Debates About Globalization, The Impact Of The Mass Media, And The Shift From Government To Governance. It Also Includes New Boxed Material On Major Thinkers And Key Concepts.
9707
History of Political Philosophy
An ... Introduction To The Thought Butors To The Western Tradition Of Political Philosophy From Classical Greek Antiquity To The Twentieth Century. Writtenby Experts On The Various Philosophers ... Th...e Thirs Edition ... Has Been Expanded To Include Thucydides And Xenophon ... And ... Edmund Husserl And Martin Heidegger. An Essay Has Been Added ... On The Deceased Editor, Leo Strauss. New Essays Have Been Written On Aristotle, Burke, And Bentham And James Mill ... The Contributors To This Volume Aim At Encouraging The Reader To Understand The Work Of Each Philosopher As He Himself Did, Rather Than As A Phenomenon Of Intellectual Or Social History--publisher's Description. Thucydides / David Bolotin -- Plato / Leo Strauss -- Xenophon / Christopher Bruell -- Aristotle / Carnes Lord -- Marcus Tullius Cicero / James E. Holton -- St. Augustine / Ernest L. Fortin -- Alfarabi / Muhsin Mahdi -- Moses Maimonides / Ralph Lerner -- St. Thomas Aquinas / Ernest L. Fortin -- Marsilius Of Padua / Leo Strauss -- Niccolo Machiavelli / Leo Strauss -- Martin Luther And John Calvin / Duncan B. Forrester -- Richard Hooker / Duncan B. Forrester -- Francis Bacon / Howard B. White -- Hugo Grotius / Richard H. Cox -- Thomas Hobbes / Laurence Berns -- Rene Descartes / Richard Kennington -- John Milton / Walter Berns -- Benedict Spinoza / Stanley Rosen -- John Locke / Robert A. Goldwin -- Montesquieu / David Lowenthal -- David Hume / Robert S. Hall -- Jean-jacques Rousseau / Allan Bloom -- Immanuel Kant / Pierre Hassner -- William Blackstone / Herbert J. Storing -- Adam Smith / Joseph Cropsey -- The Federalist / Martin Diamond -- Thomas Paine / Francis Canavan -- Edmund Burke / Harvey Mansfield, Jr. -- Jeremy Bentham And James Mill / Timothy Fuller -- Georg W.f. Hegel / Pierre Hassner; Translated By Allan Bloom -- Alexis De Tocqueville / Marvin Zetterbaum -- John Stuart Mill / Henry M. Magid -- Karl Marx / Joseph Cropsey -- Friedrich Nietzsche / Werner J. Dannhauser -- John Dewey / Robert Horwitz -- Edmund Husserl / Richard Velkley -- Martin Heidegger / Michael Gillespie -- Epilogue: Leo Strauss And The History Of Political Philosophy / Nathan Tarcov And Thomas L. Pangle. Edited By Leo Strauss And Joseph Cropsey. Includes Bibliographies And Index.
153152
On Politics: A History of Political Thought From Herodotus to the Present
Three decades in the making, one of the most ambitious and comprehensive histories of political philosophy in nearly a century. Both a history and an examination of human thought and behavior spanning... three thousand years, On Politics thrillingly traces the origins of political philosophy from the ancient Greeks to Machiavelli in Book I and from Hobbes to the present age in Book II. Whether examining Lord Acton's dictum that "absolute power corrupts absolutely" or explicating John Stuart Mill's contention that it is "better to be a human dissatisfied than a pig satisfied," Alan Ryan evokes the lives and minds of our greatest thinkers in a way that makes reading about them a transcendent experience. Whether writing about Plato or Augustine, de Toqueville or Thomas Jefferson, Ryan brings a wisdom to his text that illuminates John Dewey's belief that the role of philosophy is less to see truth than to enhance experience. With this unparalleled tour de force, Ryan emerges in his own right as one of the most influential political philosophers of our time.
134558
Global Politics
No description available
94610
Political Theory: An Introduction
heywood (government And Politics, Croydon College) Offers An Accessible Introduction To Political Theory And The Key Concepts Of Political Analysis. In Each Chapter, He Discusses A Cluster Of Interrel...ated Terms, Examining How They Have Been Used By Different Thinkers And Schools Of Thought. The Book Is Designed To Build Understanding Of Both Classical Theories And Also Of Contemporary Debates And Controversies. This Third Edition Adds Extended Coverage Of Issues Such As Identity And Difference, Multiculturalism, Globalization, And Utopianism. Annotation ©2004 Book News, Inc., Portland, Or booknews new Edition Of A Text That Introduces Political Theory And The Key Concepts In Political Analysis, Referring To Both Classical Theories And Contemporary Issues And Arguments. In Each Chapter, Heywood (course Director For Politics, And Director Of Studies At Orpington College) Presents A Cluster Of Interrelated Terms, Examines How They Have Been Used By Different Thinkers And In The Various Traditions, And Explores Related Debates And Controversies. Annotation C. Book News, Inc., Portland, Or (booknews.com)
76207
The Great Political Theories, Volume 1
The philosophy of politics As an introduction to political theory and science, this collection of writings by the great philosophers will be of close interest to general readers. It also forms a basic... textbook for students of government and political theory. Such fundamental concepts as Democracy, the Rule of Law, Justice, Natural Rights, Sovereignty, Citizenship, Power, the State, Revolution, Liberty, Reason, Materialism, Toleration, and the Place of Religion in Society are traced from their origins, through their development and changing patterns, to show how they guide political thinking and institutions today. And new in this edition, examinations of selected works by Sophocles, Francois Hotman, and Francisco Suarez. Also new are a detailed table of contents and an up-dated, comprehensive bibliography—each clear and concise for easy reference. The second volume of Professor Curtis' work, also available in a Discus edition, includes the writings of the eighteenth, nineteenth, and twentieth century thinkers—from Burke, Rousseau, and Kant to modern times.