About Us
Welcome to BookAbout, the revolutionary platform for book lovers like us! We believe that finding the right book should be an enjoyable and effortless experience. As avid readers ourselves, we understand the frustration of searching through countless books by name or category, only to come up empty-handed.
That's why we created BookAbout, a platform that uses the latest AI technology to search through over 500,000 books to find the one that matches the idea of your query. With BookAbout, you can say goodbye to the traditional way of searching for books and hello to a new way of discovering your next favorite read.
We are dedicated to providing you with the best reading experience possible. We will be constantly updating our database to ensure that we have the latest books, and we're always working to improve our search algorithms to make your experience even better.
We invite you to join us on our journey of discovering the world of books. With BookAbout, you'll never have to settle for a mediocre book again. Start your search today and find your next literary adventure
271643
Ten Drugs: How Plants, Powders, and Pills Have Shaped the History of Medicine
No description available
65529
Lippincott's Illustrated Reviews: Pharmacology
Now in full color, Lippincott's Illustrated Reviews: Pharmacology, Third Edition enables rapid review and assimilation of large amounts of complex information about the essentials of medical pharmacol...ogy. As in previous editions, Lippincott's Illustrated Reviews: Pharmacology features an outline format, over 500 full-color illustrations, cross-references to other titles in the series, and over 125 review questions. New features include: All chapters completely revised and updated with the latest in pharmacologic theory and therapies. New and expanded material on steroid hormones, poisons, drugs for obesity, osteoporosis, erectile dysfunction, anti-inflammatory drugs, and autacoids. Innovative Concept Maps, a tool for visualizing the connections between concepts. Material is represented in a hierarchical fashion with the most general concepts at the top of the map and the more specific, less general concepts arranged beneath. End of Chapter Summaries of the most important/clinically significant testable information on the USMLE Step 1 Examination. Students who are preparing for standard courses or examinations (USMLE, COMLEX) will find this remarkable book "must read" material to master pharmacology essentials.
65530
Basic & Clinical Pharmacology
Basic Principles -- Autonomic Drugs -- Cardiovascular-renal Drugs -- Drugs With Important Actions On Smooth Muscle -- Drugs That Act In The Central Nervous System -- Drugs Used To Treat Diseases Of Th...e Blood, Inflammation, And Gout -- Endocrine Drugs -- Chemotherapeutic Drugs -- Toxicology -- Special Topics. Edited By Bertram G. Katzung. A Lange Medical Book Includes Bibliographical References And Index.
29325
Harper's Illustrated Biochemistry
No description available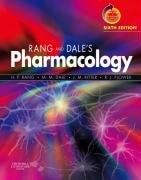 55310
Rang & Dale's Pharmacology
No description available
48844
The Pill Book
For more than two decades, millions of consumers have trusted The Pill Book to provide official, FDA-approved drug information plus guidelines from leading pharmacists. Each drug is profiled in a conc...ise, readable, and easy-to-understand entry, making The Pill Book the perfect reference when you have questions about the medications your doctor prescribes.The most up-to-date information about the more than 1,800 most commonly prescribed drugs in the United States: • Generic and brand-name listings that can help you save money• What the drug is for, and how it works• Usual dosages, and what to do if a dose is skipped• Side effects and possible adverse reactions, highlighted for quick reference• Interactions with other drugs and food• Overdose and addiction potential• Alcohol-free and sugar-free medications• The most popular self-injected medications and their safe handling • Information for seniors, pregnant and breast-feeding women, children, and others with special needs• Cautions and warnings, and when to call your doctor• 32 pages of actual-size color photographs of prescription pills The eighth edition of this best-selling paperback includes both generic and brand names, overdose and addiction potentials, alcohol-free and sugar-free medicines, usual dosages, side effects, and much more.
49482
Handbook of Clinical Psychopharmacology for Therapists
No description available
64780
Essential Psychopharmacology: The Prescriber's Guide
This Completely Revised And Updated Edition Of Stephen Stahl's Much Acclaimed Prescriber's Guide Is The Latest Addition To The Essential Psychopharmacology Range. New Drugs Have Been Added And Every D...rug Has Been Revised And Updated To Take Into Account New Regulations And Uses. In Full Color Throughout, And With Four Or More Pages For Each Of Over 100 Psychotropic Drugs, Stephen Stahl Distills His Great Expertise Into A Pragmatic Formulary That Gives All The Information A Prescriber Needs To Treat Patients Effectively. Each Drug Is Covered In Five Categories: General Therapeutics, Dosing And Use, Side Effects, Special Populations, And Pearls. Target Icons Appear Next To Key Categories For Each Drug So That The Prescriber Can Go Easily And Instantly To The Information Needed. Several Indexes Are Included, Listing Drugs By Name (generic And International), Use, And Class. In Addition Dr. Stahl Indicates Which Drugs Have Fda Approval, And Also Gives The Fda Use-in-pregnancy Ratings. Book Jacket.--jacket. 1. Alprazolam -- 2. Amisulpride -- 3. Amitriptyline -- 4. Amoxapine -- 5. Amphetamine (d) -- 6. Amphetamine (d, L) -- 7. Aripiprazole -- 8. Atomoxetine -- 9. Bupropion -- 10. Buspirone -- 11. Carbamazepine -- 12. Chlordiazepoxide -- 13. Chlorpromazine -- 14. Citalopram -- 15. Clomipramine -- 16. Clonazepam -- 17. Clonidine -- 18. Clorazepate -- 19. Clozapine -- 20. Cyamemazine -- 21. Desipramine -- 22. Diazepam -- 23. Donepezil -- 24. Dothiepin -- 25. Doxepin -- 26. Duloxetine -- 27. Escitalopram -- 28. Estazolam -- 29. Eszopiclone -- 30. Flumazenil -- 31. Flunitrazepam -- 32. Fluoxetine -- 33. Flupenthixol -- 34. Fluphenazine -- 35. Flurazepam. Stephen M. Stahl ; Editorial Assistant, Meghan M. Grady ; With Illustrations By Nancy Muntner. Includes Bibliographical References And Indexes.
11512
Goodman & Gilman's the Pharmacological Basis of Therapeutics
Online Version Includes The Complete Contents Of The Latest Edition Of Goodman & Gilman's The Pharmacological Basis Of Therapeutics Along With Updates And Links To Related Material. Sect. I General Pr...inciples -- Sect. Ii Drugs Acting At Synaptic And Neuroeffector Junctional Sites -- Sect. Iii Drugs Acting On The Central Nervous System -- Sect. Iv Autacoids: Drug Therapy Of Inflammation -- Sect. V Drugs Affecting Renal And Cardiovascular Function -- Sect. Vi Drugs Affecting Gastrointestinal Function -- Sect. Vii Chemotherapy Of Parasitic Infections -- Sect. Viii Chemotherapy Of Microbial Diseases -- Sect. Ix Chemotherapy Of Neoplastic Diseases -- Sect. X Immunomodulators -- Sect. Xi Drugs Acting On The Blood And The Blood-forming Organs -- Sect. Xii Hormones And Hormone Antagonists -- Sect. Xiii Dermatology -- Sect. Xiv Ophthalmology -- Sect. Xv Toxicology -- Appendices. Includes Bibliographical References And Index. Also Available In An Electronic Version.
197093
Lehne's Pharmacology for Nursing Care
Known for its clear explanations of drug prototypes and how they work, Lehne's Pharmacology for Nursing Care, 9th Edition provides a solid understanding of key drugs and their implications for nursing... care. A perennial student favorite, this book simplifies complex concepts, using large and small print to distinguish need-to-know drug content from the material that's merely nice to know. New to this edition are quick-reference summaries of prototype drugs, safety alerts, and a stronger QSEN focus. Written by noted nursing pharmacology instructors Jacqueline Burchum and Laura Rosenthal, this text helps you understand pharmacology as opposed to merely memorizing drug facts.