About Us
Welcome to BookAbout, the revolutionary platform for book lovers like us! We believe that finding the right book should be an enjoyable and effortless experience. As avid readers ourselves, we understand the frustration of searching through countless books by name or category, only to come up empty-handed.
That's why we created BookAbout, a platform that uses the latest AI technology to search through over 500,000 books to find the one that matches the idea of your query. With BookAbout, you can say goodbye to the traditional way of searching for books and hello to a new way of discovering your next favorite read.
We are dedicated to providing you with the best reading experience possible. We will be constantly updating our database to ensure that we have the latest books, and we're always working to improve our search algorithms to make your experience even better.
We invite you to join us on our journey of discovering the world of books. With BookAbout, you'll never have to settle for a mediocre book again. Start your search today and find your next literary adventure
101951
Personal Development for Smart People: The Conscious Pursuit of Personal Growth
Despite promises of "fast and easy" results from slick marketers, real personal growth is neither fast nor easy. The truth is that hard work, courage, and self-discipline are required to a...chieve meaningful results—results that are not attained by those who cling to the fantasy of achievement without effort.Personal Development for Smart People reveals the unvarnished truth about what it takes to consciously grow as a human being. As you read, you'll learn the seven universal principles behind all successful growth efforts (truth, love, power, oneness, authority, courage, and intelligence); as well as practical, insightful methods for improving your health, relationships, career, finances, and more.You'll see how to become the conscious creator of your life instead of feeling hopelessly adrift, enjoy a fulfilling career that honors your unique self-expression, attract empowering relationships with loving, compatible partners, wake up early feeling motivated, energized, and enthusiastic, achieve inspiring goals with disciplined daily habits and much more!With its refreshingly honest yet highly motivating style, this fascinating book will help you courageously explore, creatively express, and consciously embrace your extraordinary human journey.
30057
Spiritual Growth: Being Your Higher Self
These easy-to-learn processes taught by Orin, a wise and gentle spirit teacher, have helped thousands take a quantum leap, accelerate their spiritual growth, and live their lives with more joy, harmon...y, peace, and love. Spiritual Growth teaches you how to be your Higher Self in your everyday life, create a vision of your higher purpose, and manifest what you want rapidly and easily. You will learn to work with light for healing and growth, to connect with the Universal Mind for enhanced creativity, and to link with the Higher Will to carry out your higher purpose. Spiritual Growth gives you tools to lift the veils of illusion, see truth, expand and contract time, raise your vibration, achieve higher states of consciousness, open your heart, and know yourself in new, more loving ways. Spiritual Growth teaches you to have more satisfying relationships with others by using the skills of non-attachment, right use of will, being transparent to others' energies, and communicating as your Higher Self. You will learn to become a source of light and to grow through world service. This book offers the next step in spiritual growth for you who want to know more about who you are, why you are here, and what you came to do. You can align with the higher energies that are coming into the earth plane and use them to create the best life you can imagine for yourself. Three sections guide you upward to connect with the Universal Mind and Higher self, inward to expand awareness, and outward in world service.
208293
The Mastery Manual
No description available
53023
Journal to the Self: Twenty-Two Paths to Personal Growth - Open the Door to Self-Understanding by Writing, Reading, and Creating a Journal of Your Life
A nationally known therapist provides a powerful tool for better living—a step-by-step method to personal growth, creative expression, and career enhancement through journal writing. ... Written by a therapist, this is a guide for those who want to keep a journal as a tool for personal growth.
32054
50 Self-Help Classics: 50 Inspirational Books to Transform Your Life from Timeless Sages to Contemporary Gurus
this Is The First And Only Bitesized Guide To The Works That Have Captured The Imagination Of Millions And Inspired Readers Everywhere To Follow Their Dreams.
241251
The 5 Steps to Success
No description available
42096
You Can Heal Your Life Companion Book
New York Times Bestseller! As featured on "Oprah" and "Donahue!" Over 3 Million copies sold worldwide! Louise L. Hay, bestselling author, is an internationally known leader in the ...self-help field. Her key message is: "If we are willing to do the mental work, almost anything can be healed." The author has a great deal of experience and firsthand information to share about healing, including how she cured herself after being diagnosed with cancer.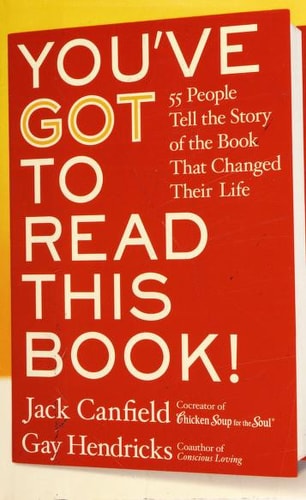 26500
You've GOT to Read This Book!: 55 People Tell the Story of the Book That Changed Their Life
There's nothing better than a book you can't put down&#8212or better yet, a book you'll never forget. This book puts the power of transformational reading into your hands. Jack Canfield, cocreator... of the bestselling Chicken Soup for the Soul® series, and self-actualization pioneer Gay Hendricks have invited notable people to share personal stories of books that changed their lives. What book shaped their outlook and habits? Helped them navigate rough seas? Spurred them to satisfaction and success? The contributors include Dave Barry, Stephen Covey, Malachy McCourt, Jacquelyn Mitchard, Mark Victor Hansen, John Gray, Christiane Northrup, Bernie Siegel, Craig Newmark, Michael E. Gerber, Lou Holtz, and Pat Williams, to name just a few. Their richly varied stories are poignant, energizing, and entertaining.Author and actor Malachy McCourt tells how a tattered biography of Gandhi, stumbled on in his youth, offered a shining example of true humility&#8212and planted the seeds that would help support his sobriety decades later. Bestselling author and physician Bernie Siegel, M.D., tells how William Saroyan's The Human Comedy helped him realize that, in order to successfully treat his patients with life-threatening illnesses, "I had to help them live&#8212not just prevent them from dying." Actress Catherine Oxenberg reveals how, at a life crossroads and struggling with bulimia, a book taught her the transforming difference one person could make in the life of another&#8212and why that person for her was Richard Burton. Rafe Esquith, the award-winning teacher whose inner-city students have performed Shakespeare all over the world, recounts his deep self-doubt in the midst of his success&#8212and how reading To Kill a Mockingbird strengthened him to continue teaching. Beloved librarian and bestselling author Nancy Pearl writes how, at age ten, Robert Heinlein's science fiction book Space Cadet impressed on her the meaning of personal integrity and gave her a vision of world peace she'd never imagined possible. Two years later, she marched in her first civil rights demonstration and learned that there's always a way to make "a small contribution to intergalactic harmony." If you're looking for insight and illumination&#8212or simply for that next great book to read&#8212You've Got to Read This Book! has treasures in store for you.
44189
Introduction to Personal Power
No description available
97369
Changing the Picture (How to Stay Motivated Personal Growth Library)
No description available