About Us
Welcome to BookAbout, the revolutionary platform for book lovers like us! We believe that finding the right book should be an enjoyable and effortless experience. As avid readers ourselves, we understand the frustration of searching through countless books by name or category, only to come up empty-handed.
That's why we created BookAbout, a platform that uses the latest AI technology to search through over 500,000 books to find the one that matches the idea of your query. With BookAbout, you can say goodbye to the traditional way of searching for books and hello to a new way of discovering your next favorite read.
We are dedicated to providing you with the best reading experience possible. We will be constantly updating our database to ensure that we have the latest books, and we're always working to improve our search algorithms to make your experience even better.
We invite you to join us on our journey of discovering the world of books. With BookAbout, you'll never have to settle for a mediocre book again. Start your search today and find your next literary adventure
53785
The Mindbody Prescription: Healing the Body, Healing the Pain
Pain disorders have reached epidemic proportion in the United States. At the same time, pioneering physicians like Dr. Sarno have identified the primary role emotions play in causing illness. As a r...esult, we stand on the brink of beign able to understand and treat many disorders withou drugs, physical therapy, or sugery. The Mindbody Prescription teaches you: How emotions stimulate the brain to produce physical symptions How TMS -- Tension Myositis Syndrome -- a a major cause of back, neck, shoulder, and limb pain How repressed emotions can lead to petpic ulcers, colitis, tension and migraine headaches, hay fever, and a host of other ailments How new, sometimes disabling pain conditioins like RSD -- Repetitive Stress Disorders - carpal tunnel syndrome, fibromyalgia, andpost-polio syndrome are all part of TMS, and can be treated successfully How understanding the way you mind and body interact can produce record results. Your mind and body are one, inextricably linked. You are stronger than you know and have more power over your body than you probably realize. But you must learn how to tap that wonderful potential. That is the goal of The Mindbody Prescription: to provide you with a powerful weapon in the war on pain and disability.
65508
Treat Your Own Back
No description available
85281
Pain Management (Burke, #13)
Following A Failed Assassination Attempt, Career Criminal And Ultimate Urban Survivalist Burke Moves To The Pacific Northwest And Takes On The Task Of Tracking Down A Runaway Teenager In A Long, Dark ...Tunnel Of Lies--lined With More Games Than Players.--jacket. Andrew Vachss. A Burke Novel--jacket.
124555
The Pain Chronicles: Cures, Myths, Mysteries, Prayers, Diaries, Brain Scans, Healing, and the Science of Suffering
Both a personal meditation and an intellectual exploration, The Pain Chronicles illuminates and makes sense of the all-too-human experience of pain—-and confronts with extraordinary grace and emp...athy its peculiar traits, its harrowing effects, and its various antidotes. The New York Times Book Review - Robin Romm …an expansive, invigorating mix of medical reportage, history, memoir and cultural criticism. Thernstrom's passion and intellectual curiosity are infectious. At times, she is the literary critic, contextualizing our relationship to pain through Susan Sontag, Michel Foucault, Emily Dickinson and the Bible…At other times, she is a fiercely knowledgeable science writer, delivering case studies and research findings with a story teller's verve…The Pain Chronicles is…a sophisticated, elegantly compiled treatise—as wide-ranging, complex and defiant as pain itself.
105492
Explain Pain
No description available
10316
Aches & Pains
No description available
54303
Fibromyalgia and Chronic Myofascial Pain: A Survival Manual
Fibromyalgia & Chronic Myofascial Pain Syndrome offers the first comprehensive patient guide for managing these conditions. You'll start by learning what FMS and MPS are, evaluating your own symptoms,... and identifying the tender and/or trigger points that are crucial for treating them. The manual covers chronic pain, sleep problems, and other "internal affairs," shows you how you can use your mind to counteract physical symptoms and the numbing effects of "fibrofog," and provides an extensive set of healing tools - including information on the latest medications, a nutritional program, and tips for using bodywork and other less commonly known treatments. Its comprehensive survival strategies include suggestions for coping with family and work situations, getting support, and dealing with the health care system. Library Journal An estimated 26 million Americans have either fibromyalgia syndrome (FMS), myofascial pain syndrome (MPS), or both in the form of an FMS/MPS complex. The volume by Starlanyl, a physician who specializes in the research and treatment of FMS/MPS and who has both conditions, and Copeland, a writer and FMS/MPS patient, discuss all aspects of both disorders. They also offer information on the latest medications, tips for bodywork, and suggestions for coping with family and work, getting support, and dealing with the healthcare system. Appendixes include lists of agencies and organizations and of audio and video aids. Both books are recommended for consumer health collections, but if only one can be purchased, Starlanyl and Copeland's work has the edge due to its greater scope and more comprehensive coverage.Janet M. Coggan, Univ. of Florida Libs., Gainesville
137952
Mindfulness for Health: A practical guide to relieving pain, reducing stress and restoring wellbeing
No description available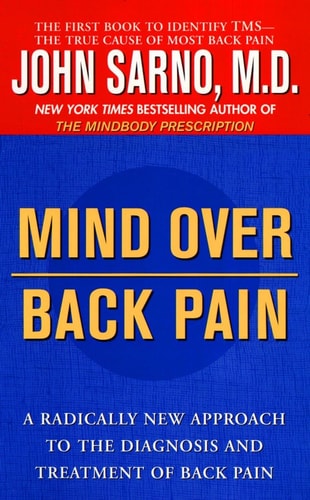 31444
Mind Over Back Pain
No description available
163694
Back in Control: A Spine Surgeon's Roadmap Out of Chronic Pain
In Back in Control, Dr. Hanscom focuses on an aspect of chronic pain that the medical world has largely overlooked: you must calm your nervous system in order to get better. Beyond any other book abou...t back pain, Back in Control reveals how to quiet a turbocharged central nervous system and make a full recovery. His life-changing system has helped hundreds of patients heal their pain. These patients' stories, as well as his own, show that you can take charge of your care and set yourself on the road to a healthy, rich and full life.