About Us
Welcome to BookAbout, the revolutionary platform for book lovers like us! We believe that finding the right book should be an enjoyable and effortless experience. As avid readers ourselves, we understand the frustration of searching through countless books by name or category, only to come up empty-handed.
That's why we created BookAbout, a platform that uses the latest AI technology to search through over 500,000 books to find the one that matches the idea of your query. With BookAbout, you can say goodbye to the traditional way of searching for books and hello to a new way of discovering your next favorite read.
We are dedicated to providing you with the best reading experience possible. We will be constantly updating our database to ensure that we have the latest books, and we're always working to improve our search algorithms to make your experience even better.
We invite you to join us on our journey of discovering the world of books. With BookAbout, you'll never have to settle for a mediocre book again. Start your search today and find your next literary adventure
212552
Smarter Faster Better: The Secrets of Being Productive
NEW YORK TIMES BESTSELLER • The author of The Power of Habit and "master of the life hack" (GQ) explores the fascinating science of productivity and offers real-world takeaways to apply your life, whe...ther you're chasing peak productivity or simply trying to get back on track. "Duhigg melds cutting-edge science, deep reporting, and wide-ranging stories to give us a fuller, more human way of thinking about how productivity actually happens."—Susan Cain, author of Quiet   In The Power of Habit, Pulitzer Prize–winning journalist Charles Duhigg explained why we do what we do. In Smarter Faster Better, he applies the same relentless curiosity and rich storytelling to how we can improve at the things we do.    At the core of Smarter Faster Better are eight key concepts—from motivation and goal setting to focus and decision making—that explain why some people and companies get so much done. Drawing on the latest findings in neuroscience, psychology, and behavioral economics—as well as the experiences of CEOs, educational reformers, four-star generals, FBI agents, airplane pilots, and Broadway songwriters—this book reveals that the most productive people, companies, and organizations don't merely act differently. They view the world, and their choices, in profoundly different ways.   Smarter Faster Better is a story-filled exploration of the science of productivity, one that can help us learn to succeed with less stress and struggle—and become smarter, faster, and better at everything we do.
135245
The Decision Book: Fifty Models for Strategic Thinking
No description available
78149
50 Psychology Classics: Who We Are, How We Think, What We Do: Insight and Inspiration from 50 Key Books
Alfred Adler. Understanding Human Nature (1927) -- Gavin De Becker. The Gift Of Fear : Survival Signals That Protect Us From Violence (1997) -- Eric Berne. Games People Play : The Psychology Of Human ...Relationships (1964) -- Robert Bolton. People Skills : How To Assert Yourself, Listen To Others, And Resolve Conflicts (1979) -- Edward De Bono. Lateral Thinking : Creativity Step By Step (1970) -- Nathaniel Branden. The Psychology Of Self-esteem (1969) -- David D. Burns. Gifts Differing : Understanding Personality Type (1980) -- Robert Cialdini. Influence : The Psychology Of Persuasion (1984) -- Mihaly Csikszentmihalyi. Creativity : Flow And The Psychology Of Discovery And Invention (1996) -- Albert Ellis & Robert A. Harper. A Guide To Rational Living (1961) -- Sidney Rosen. My Voice Will Go With You : The Teaching Tales Of Milton H. Erickson, M.d. (1982) -- Erik Erikson. Young Man Luther : A Study In Psychoanalysis And History (1958) -- Hans Eysenck. Dimensions Of Personality (1947) -- Susan Forward. Emotional Blackmail : When The People In Your Life Use Fear, Obligation, And Guilt To Manipulate You (1997) -- Viktor Frankl. The Will To Meaning : Foundations And Applications Of Logotherapy (1969) -- Anna Freud. The Ego And The Mechanisms Of Defence (1936) -- Sigmund Freud. The Interpretation Of Dreams (1900) -- Howard Gardner. Frames Of Mind : The Theory Of Multiple Intelligences (1983) -- Daniel Gilbert. Stumbling On Happiness (2006) -- Malcolm Gladwell. Blink : The Power Of Thinking Without Thinking (2005) -- Daniel Goleman. Working With Emotional Intelligence (1998) -- John M. Gottman. The Seven Principles For Making Marriage Work (1999) -- Harry Harlow. The Nature Of Love (1958) -- Thomas A. Harris. I'm Ok-you're Ok (1967) -- Eric Hoffer. The True Believer : Thoughts On The Nature Of Mass Movements (1951) -- Karen Horney. Our Inner Conflicts : A Constructive Theory Of Neurosis (1945) -- William James. The Principles Of Psychology (1890) -- Carl Jung. The Archetypes And The Collective Unconscious (1968) -- Alfred Kinsey. Sexual Behavior In The Human Female (1953) -- Melanie Klein. Envy And Gratitude (1957) -- R. D. Laing. The Divided Self : A Study Of Sanity And Madness (1960) -- Abraham Maslow. The Farther Reaches Of Human Nature (1971) -- Stanley Milgram. Obedience To Authority : An Experimental View (1974) -- Anne Moir & David Jessel. Brainsex : The Real Difference Between Men And Women (1989) -- Ivan Pavlov. Conditioned Reflexes : An Investigation Of The Physiological Activity Of The Cerebral Cortex (1927) -- Fritz Perls. Gestalt Therapy : Excitement And Growth In The Human Personality (1951) -- Jean Piaget. The Language And Thought Of The Child (1923) -- Steven Pinker. The Blank Slate : The Modern Denial Of Human Nature (2002) -- V. S. Ramachandran. Phantoms In The Brain : Probing The Mysteries Of The Human Mind (1998) -- Carl Rogers. On Becoming A Person : A Therapist's View Of Psychotherapy (1961) -- Oliver Sacks. The Man Who Mistook His Wife For A Hat : And Other Clinical Tales (1970) -- Barry Schwartz. The Paradox Of Choice : Why More Is Less (2004) -- Martin Seligman. Authentic Happiness : Using The New Positive Psychology To Realize Your Potential For Lasting Fulfillment (2002) -- Gail Sheehy. Passages : Predictable Crises Of Adult Life (1976) -- B. F. Skinner. Beyond Freedom And Dignity (1971) -- Douglas Stone, Bruce Patton, & Sheila Heen. Difficult Conversations : How To Discuss What Matters Most (1999) -- William Styron. Darkness Visible : A Memoir Of Madness (1990) -- Robert E. Thayer. The Origin Of Everyday Moods : Managing Energy, Tension, And Stress (1996). Tom Butler-bowdon. Includes Bibliographical References.
44143
The Fifth Discipline Fieldbook
No description available
20064
Organizational Behavior
No description available
37888
Images of Organization
Since its first publication over twenty years ago, Images of Organization has become a classic in the canon of management literature. The book is based on a very simple premise—that all theories of or...ganization and management are based on implicit images or metaphors that stretch our imagination in a way that can create powerful insights, but at the risk of distortion. Gareth Morgan provides a rich and comprehensive resource for exploring the complexity of modern organizations internationally, translating leading-edge theory into leading-edge practice.
140787
Organize Your Mind, Organize Your Life: Train Your Brain to Get More Done in Less Time
The key to a less hectic, less stressful life is not in simply organizing your desk, but organizing your mind. Dr. Paul Hammerness, a Harvard Medical School psychiatrist, describes the latest neurosci...ence research on the brain's extraordinary built-in system of organization. Margaret Moore, an executive wellness coach and codirector of the Institute of Coaching, translates the science into solutions. This remarkable team shows you how to use the innate organizational power of your brain to make your life less stressful, more productive and rewarding. You'll learn how to: –Regain control of your frenzy –Embrace effective uni-tasking (because multitasking doesn't work) –Fluidly shift from one task to another —Use your creativity to connect the dots This groundbreaking guide is complete with stories of people who have learned to stop feeling powerless against multiplying distractions and start organizing their lives by organizing their minds.
145779
Work Happy: What Great Bosses Know
Management guru Jill Geisler has coached countless men and women who want to build their leadership skills, help employees do their best work, and make workplaces happy and successful. In WORK HAPPY, ...she provides a practical, step-by-step guide, based on real-world experience, respected research, and lessons that will transform managers and their teams. It's a workshop-in-a-book, designed to produce positive, immediate and lasting results. Whether the reader is an experienced manager, a rookie boss or an aspiring leader, WORK HAPPY will supercharge their skills and celebrate the values that make anyone look forward to going to work. Jill Geisler offers concrete steps for improving each element of management including collaboration, communication, conflict resolution, motivation, coaching, and feedback, so that everyone on the team-whether in the office or working offsite-can do their best. WORK HAPPY takes management skills to the next level and proves that learning, leadership and life at work can (and should) be fun.
52046
Understanding Organizations
Pt. 1. The Concepts. 1. About This Book. 2. On The Motivation To Work. 3. On Roles And Interactions. 4. On Leadership. 5. On Power And Influence. 6. On The Workings Of Groups. 7. On The Cultures Of Or...ganizations -- Pt. 2. The Concepts In Application. 8. On The People Of Organizations And Their Development. 9. On The Work Of The Organization -- And Its Design. 10. On Polities And Change. 11. On Being A Manager. 12. On The Future Of Organizations -- Pt. 3. A Guide To Further Study. Charles Handy. Originally Published: 4th Ed. Harmondsworth : Penguin Books, 1976. Includes Bibliographical References And Index.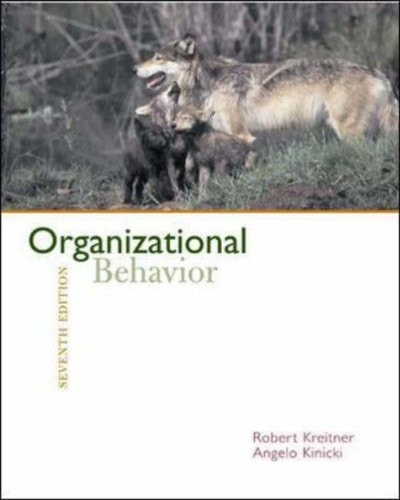 20068
Organizational Behavior [with Online Learning Center Premium Content Card]
No description available