About Us
Welcome to BookAbout, the revolutionary platform for book lovers like us! We believe that finding the right book should be an enjoyable and effortless experience. As avid readers ourselves, we understand the frustration of searching through countless books by name or category, only to come up empty-handed.
That's why we created BookAbout, a platform that uses the latest AI technology to search through over 500,000 books to find the one that matches the idea of your query. With BookAbout, you can say goodbye to the traditional way of searching for books and hello to a new way of discovering your next favorite read.
We are dedicated to providing you with the best reading experience possible. We will be constantly updating our database to ensure that we have the latest books, and we're always working to improve our search algorithms to make your experience even better.
We invite you to join us on our journey of discovering the world of books. With BookAbout, you'll never have to settle for a mediocre book again. Start your search today and find your next literary adventure
232516
The Immortalists
It's 1969 In New York City's Lower East Side, And Word Has Spread Of The Arrival Of A Mystical Woman, A Traveling Psychic Who Claims To Be Able To Tell Anyone The Day They Will Die. The Gold Children-...-four Adolescents On The Cusp Of Self-awareness--sneak Out To Hear Their Fortunes. Their Prophecies Inform Their Next Five Decades. Golden-boy Simon Escapes To The West Coast, Searching For Love In '80s San Francisco; Dreamy Klara Becomes A Las Vegas Magician, Obsessed With Blurring Reality And Fantasy; Eldest Son Daniel Seeks Security As An Army Doctor Post-9/11, Hoping To Control Fate; And Bookish Varya Throws Herself Into Longevity Research, Where She Tests The Boundary Between Science And Immortality. The Immortalists Probes The Line Between Destiny And Choice, Reality And Illusion, This World And The Next. It Is A Deeply Moving Testament To The Power Of Story, The Nature Of Belief, And The Unrelenting Pull Of Familial Bonds. Chloe Benjamin.
8688
Immortality
No description available
127587
Immortal
No description available
262653
Immortal Talks
No description available
76437
Immortality
No description available
121721
Long for This World: The Strange Science of Immortality
This Rollicking Scientific Adventure Story Is Science Writing Of The Highest Order And With The Highest Stakes. Could We Live Forever? And If We Could--would We Want To?--from Publisher Description. T...he Phoenix. Immortal Longings ; The Problem Of Mortality ; Life And Death Of A Cell ; Into The Nest Of The Phoenix -- The Hydra. The Evolution Of Aging ; The Garbage Catastrophe ; The Seven Deadly Things ; The Methuselah Wars ; The Weakest Link -- The Good Life. Long For This World ; The Trouble With Immortality ; The Everlasting Yes And No. Jonathan Weiner. Includes Bibliographical References (p. 285-297) And Index.
142906
Immortality: The Quest to Live Forever and How It Drives Civilization
A fascinating work of popular philosophy and history that both enlightens and entertains, Stephen Cave's Immortality investigates whether it just might be possible to live forever and whether we shoul...d want to.  But it also makes a powerful argument, which is that it's our very preoccupation with defying mortality that drives civilization.   Central to this book is the metaphor of a mountaintop where one can find the Immortals.  Since the dawn of humanity, everyone – whether they know it or not – has been trying to climb that mountain.  But there are only four paths up its treacherous slope, and there have only ever been four paths.  Throughout history, people have wagered everything on their choice of the correct path, and fought wars against those who've chosen differently.   While Immortality takes the reader on an eye-opening journey from the beginnings of civilization to the present day, the structure is not chronological.  Rather it is path driven.  As each path is revealed to us, an historical figure serves as our guide.    In drawing back the curtain on what compels humans to "keep on keeping on," Cave engages the reader in a number of mind-bending thought experiments.  He teases out the implications of each immortality gambit, asking, for example, how long a person would live if they did manage to acquire a perfectly disease-free body.  Or what would happen if a super-being tried to round up the atomic constituents of all who've died in order to resurrect them.  Or what our loved ones would really be doing in heaven if it does exist.  Or what part of us actually lives in a work of art, and how long that work of art can survive.    Toward the the book's end, we're confronted with a series of brain-rattling questions: What would happen if tomorrow humanity discovered that there is no life but this one?  Would people continue to care about their favorite sports team, please their boss, vie for the title of Year's Best Salesman? Would three-hundred-year projects still get started?  If the four paths up the Mount of the Immortals lead nowhere — if there is no getting up to the summit — is there still reason to live?  And can civilization survive?   Immortality is a deeply satisfying book, as optimistic about the human condition as it is insightful about the true arc of history.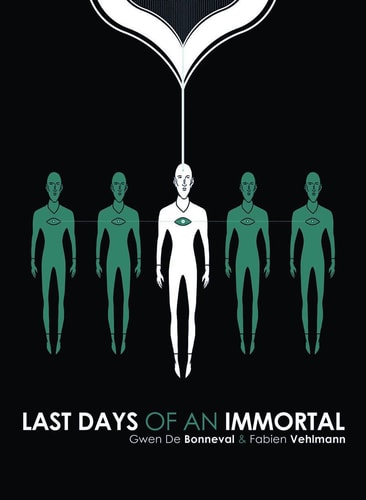 147379
Last Days of an Immortal
No description available
247902
The Immortality Curse (Matt Kearns #3)
What Would You Give For Eternal Life? An Impossibly Old Man, A Family Gruesomely Murdered And A Woman Whose Collection Of Mythological Artefacts Defies Belief: Professor Matt Kearns Knows They Are Con...nected. These Ancient Clues Bring Matt Out Of His Self-imposed Solitude To Seek The Fabled Fountain Of Youth. This Brings On A Perilous Odyssey Across Deserts, Oceans And Into The Heart Of A Mountain, Matt Must Overcome Horrifying Adversaries, Creatures Of Legend, And Also Unravel A 5000-year-old Mystery That Will Tear At His Very Sanity. In A Hidden Place, Matt Finds That Some Gifts Have A Terrible Price, And Some Are Not Gifts At All, But Curses That Can Last For An Eternity.
82768
The Immortality Factor
No description available