About Us
Welcome to BookAbout, the revolutionary platform for book lovers like us! We believe that finding the right book should be an enjoyable and effortless experience. As avid readers ourselves, we understand the frustration of searching through countless books by name or category, only to come up empty-handed.
That's why we created BookAbout, a platform that uses the latest AI technology to search through over 500,000 books to find the one that matches the idea of your query. With BookAbout, you can say goodbye to the traditional way of searching for books and hello to a new way of discovering your next favorite read.
We are dedicated to providing you with the best reading experience possible. We will be constantly updating our database to ensure that we have the latest books, and we're always working to improve our search algorithms to make your experience even better.
We invite you to join us on our journey of discovering the world of books. With BookAbout, you'll never have to settle for a mediocre book again. Start your search today and find your next literary adventure
886
Applied Economics: Thinking Beyond Stage One
Publisher Description: The Application Of Economics To Major Contemporary Real World Problems--housing, Medical Care, Discrimination, The Economic Development Of Nations--is The Theme Of This New Book... That Tackles These And Other Issues Head On In Plain Language, As Distinguished From The Usual Jargon Of Economists. It Examines Economic Policies Not Simply In Terms Of Their Immediate Effects But Also In Terms Of Their Later Repercussions, Which Are Often Very Different And Longer Lasting. The Interplay Of Politics With Economics Is Another Theme Of Applied Economics, Whose Examples Are Drawn From Experiences Around The World, Showing How Similar Incentives And Constraints Tend To Produce Similar Outcomes Among Very Disparate Peoples And Cultures. Politics Versus Economics -- Free And Unfree Labor -- The Economics Of Medical Care -- The Economics Of Housing -- Risky Business -- The Economics Of Discrimination -- The Economic Development Of Nations. Thomas Sowell. Includes Bibliographical References And Index.
160671
The Economics Book: Big Ideas Simply Explained
From Aristotle and Thomas Aquinas, to Adam Smith and John Maynard Keynes, to the top economic thought leaders of today, The Economics Book is the essential reference for students and anyone else with ...an interest in how economies work. Easy-to-follow graphics, succinct quotations, and thoroughly accessible text throw light on the applications of economics, making them relatable through everyday examples and concerns. Employing DK's trademark visual approach, The Economics Book takes a frequently confusing subject and makes sense of it, clearly highlighting both historically important and emerging ideas in this critical field of science.
50578
Economics
No description available
41942
International Economics: Theory and Policy [with MyEconLab Student Access Kit]
No description available
898
Natural Health, Natural Medicine
The best-selling books of Andrew Weil, "the guru of alternative medicine," (San Francisco Examiner) offer a comprehensive blend of traditional and alternative methods that help to achieve better ...health in the modern world.   Natural Health, Natural Medicine is a comprehensive resource for everything you need to know to maintain optimum health and treat common ailments. This landmark book incorporates Dr. Weil's theories of preventive health maintenance and alternative healing into one extremely useful and readable reference, featuring general diet and nutrition information as well as simple recipes, answers to readers' most pressing questions, a catalogue of home remedies, invaluable resources, and hundreds of practical tips. This edition includes up-to-the-minute scientific findings and has been expanded to provide trustworthy advice about low-carb diets, hormone replacement therapy, Alzheimer's, attention deficit disorder, reflux disease, autism, type 2 diabetes, erectile dysfunction, the flu, and much more.
33113
Microeconomics
No description available
21166
The Nature of Economies
from The Revered Author Of The Classic the Death And Life Of Great American Cities Comes A New Book That Will Revolutionize The Way We Think About The Economy.starting From The Premise That Human Bein...gs Exist Wholly Within Nature As Part Of Natural Order In Every Respect, Jane Jacobs Has Focused Her Singular Eye On The Natural World In Order To Discover The Fundamental Models For A Vibrant Economy. The Lessons She Discloses Come From Fields As Diverse As Ecology, Evolution, And Cell Biology. Written In The Form Of A Platonic Dialogue Among Five Fictional Characters, the Nature Of Economies Is As Astonishingly Accessible And Clear As It Is Irrepressibly Brilliant And Wise–a Groundbreaking Yet Humane Study Destined To Become Another World-altering Classic.
163799
The Health Care Handbook: A Clear and Concise Guide to the American Health Care System
No description available
139810
The Instant Economist: Everything You Need to Know About How the Economy Works
The Only Economics Book You Will Ever Need - A Library Journal 2012 Best Business Book of the Year Economics isn't just about numbers: It's about politics, psychology, history, and so much more. We ar...e all economists-when we work, save for the future, invest, pay taxes, and buy our groceries. Yet many of us feel lost when the subject arises. Award-winning professor Timothy Taylor tackles all the key questions and hot topics of both microeconomics and macroeconomics, including: Why do budget deficits matter? What exactly does the Federal Reserve do? Does globalization take jobs away from American workers? Why is health insurance so costly?   The Instant Economist offers the knowledge and sophistication to understand the issues- so you can understand and discuss economics on a personal, national, and global level.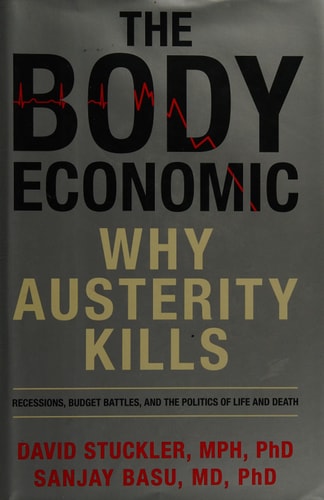 159481
The Body Economic: Why Austerity Kills
Two Public Health Researchers Prove That The Recent Economic Crises Around The World Have Had Calamitous Effects On People's Health, Citing Increases In Suicide Rates, Hiv Transmissions, And Heart Dis...ease During Times Of Bad Fiscal Policy. Part I. History. Tempering The Great Depression -- The Post-communist Mortality Crisis -- From Miracle To Mirage -- Part Ii. The Great Recession. God Bless Iceland -- Greek Tragedy -- Part Iii. Resilience. To Care Or Not To Care -- Returning To Work -- A Plague On All Your Houses -- Conclusion: Healing The Body Economic. David Stuckler, Sanjay Basu. Includes Bibliographical References (p. 201-204) And Index.