About Us
Welcome to BookAbout, the revolutionary platform for book lovers like us! We believe that finding the right book should be an enjoyable and effortless experience. As avid readers ourselves, we understand the frustration of searching through countless books by name or category, only to come up empty-handed.
That's why we created BookAbout, a platform that uses the latest AI technology to search through over 500,000 books to find the one that matches the idea of your query. With BookAbout, you can say goodbye to the traditional way of searching for books and hello to a new way of discovering your next favorite read.
We are dedicated to providing you with the best reading experience possible. We will be constantly updating our database to ensure that we have the latest books, and we're always working to improve our search algorithms to make your experience even better.
We invite you to join us on our journey of discovering the world of books. With BookAbout, you'll never have to settle for a mediocre book again. Start your search today and find your next literary adventure
58425
The Grief Recovery Handbook: A Program for Moving Beyond Death, Divorce, and Other Devastating Losses
No description available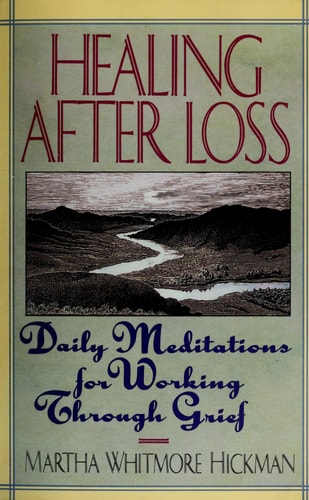 17687
Healing After Loss: Daily Meditations For Working Through Grief
For those who have suffered the loss of a loved one, here are strength and thoughtful words to inspire and comfort. For those recovering from the death of a loved one, here ...is a collection of daily affirmations and meditations to ease the grieving process and pave the way for healing to begin.
236327
Grief Works: Stories of Life, Death and Surviving
No description available
241173
Bearing the Unbearable: Love, Loss, and the Heartbreaking Path of Grief
No description available
30308
Good Grief: A Faith-Based Guide to Understanding and Healing
No description available
121216
Chicken Soup for the Grieving Soul: Stories about Life, Death and Overcoming the Loss of a Loved One
No description available
79271
Understanding Your Grief: Ten Essential Touchstones for Finding Hope and Healing Your Heart
Explaining The Important Difference Between Grief And Mourning, This Book Explores Every Mourner's Need To Acknowledge Death And Embrace The Pain Of Loss. Also Explored Are The Many Factors That Make ...Each Person's Grief Unique And The Many Normal Thoughts And Feelings Mourners Might Have. Questions Of Spirituality And Religion Are Addressed As Well. The Rights Of Mourners To Be Compassionate With Themselves, To Lean On Others For Help, And To Trust In Their Ability To Heal Are Upheld. Journaling Sections Encourage Mourners To Articulate Their Unique Thoughts And Feelings.about The Author:alan D. Wolfelt, Ph.d., Serves As Director Of The Center For Loss And Life Transition. He Writes The Children And Grief Column For bereavement Magazine And Has Appeared On the Oprah Winfrey Show, larry King Live, And today. He Is The Author Of healing Your Grieving Heart, healing A Teen's Grieving Heart, And understanding Grief. He Lives In Fort Collins, Colorado.
89186
Grieving Mindfully: A Compassionate and Spiritual Guide to Coping with Loss
grief Is A Personal Journey, Never The Same For Any Two People And As Unique As Your Life And Your Relationships. Although Loss Is An Inevitable Part Of Life, How You Approach This Fact Can Make The D...ifference Between Meaningless Pain And The Manifestation Of Understanding And Wisdom. This Book Describes A Mindful Approach To Dealing With Grief That Can Help You Make That Difference.by Walking This Mindful Path, You Will Discover That You Are Capable Of Transforming And Healing The Grief You Carry And Finding The Spiritual And Emotional Resilience You Need To Move Through This Challenging Time. These Mindfulness Practices, Explained Here In Simple And Practical Language, Will Help You Bear Your Time Of Grief. But They Will Do More Than That, Too. They Will Guide You To A Life More Fully Lived, With More Meaning. These Simple Practices Will Help You Experience What Richness Comes From Asking Deeper Questions About Loss And About Life.
42527
I Miss You: a First Look at Death (First Look at Books)
When a close friend or family member dies, it can be difficult for children to express their feelings. This book helps boys and girls understand that death is a natural complement to life, and that g...rief and a sense of loss are normal feelings for them to have following a loved one's death. Titles in this sensitively presented series explore the dynamics of various relationships experienced by children of preschool through early school age. Kids are encouraged to understand personal feelings and social problems as a first step in dealing with them. Written by psychotherapist and counselor Pat Thomas, these books promote positive interaction among children, parents, and teachers. The story lines are simple and direct--easily accessible to younger children. There are full-color illustrations on every page.
198915
Good Grief
For Fifty Years Good Grief Has Helped Millions Of Readers Find Comfort And Rediscover Hope After Loss. Now This Classic Text Is Available In A New Edition, With An Afterword By The Author's Daughters ...Telling How The Book Came To Be. In Good Grief, Granger E. Westberg Uses Gentle Wisdom And Acute Insight Into Human Nature To Guide Readers Through The Ten Stages Of Grief: Shock, Emotion, Depression, Physical Distress, Panic, Guilt, Anger, Resistance, Hope, And Finally, Acceptance. Recognizing That Grief Is Complex And Deeply Personal, He Defines No 'right' Way To Grieve But Rather Offers Valuable Insights On The Emotional And Physical Responses We May Experience During The Natural Process Of Grieving. Whether Mourning The Death Of A Loved One, The End Of A Marriage, The Loss Of A Job, Or Other Difficult Life Changes, This Comforting Resource Will Help Renew Our Faith In A Loving, Ever-present God.