About Us
Welcome to BookAbout, the revolutionary platform for book lovers like us! We believe that finding the right book should be an enjoyable and effortless experience. As avid readers ourselves, we understand the frustration of searching through countless books by name or category, only to come up empty-handed.
That's why we created BookAbout, a platform that uses the latest AI technology to search through over 500,000 books to find the one that matches the idea of your query. With BookAbout, you can say goodbye to the traditional way of searching for books and hello to a new way of discovering your next favorite read.
We are dedicated to providing you with the best reading experience possible. We will be constantly updating our database to ensure that we have the latest books, and we're always working to improve our search algorithms to make your experience even better.
We invite you to join us on our journey of discovering the world of books. With BookAbout, you'll never have to settle for a mediocre book again. Start your search today and find your next literary adventure
70620
Gravitation
this Landmark Text Offers A Rigorous Full-year Graduate Level Course On Gravitation Physics, Teaching Students To:• Grasp The Laws Of Physics In Flat Spacetime• Predict Orders Of Magnitu...de• Calculate Using The Principal Tools Of Modern Geometry• Predict All Levels Of Precision• Understand Einstein's Geometric Framework For Physics• Explore Applications, Including Pulsars And Neutron Stars, Cosmology, The Schwarzschild Geometry And Gravitational Collapse, And Gravitational Waves• Probe Experimental Tests Of Einstein's Theory• Tackle Advanced Topics Such As Superspace And Quantum Geometrodynamicsthe Book Offers A Unique, Alternating Two-track Pathway Through The Subject:• In Many Chapters, Material Focusing On Basic Physical Ideas Is Designated Astrack 1. These Sections Together Make An Appropriate One-term Advanced/graduate Level Course (mathematical Prerequisites: Vector Analysis And Simple Partial-differential Equations). The Book Is Printed To Make It Easy For Readers To Identify These Sections.• The Remaining track 2 Material Provides A Wealth Of Advanced Topics Instructors Can Draw From To Flesh Out A Two-term Course, With Track 1 Sections Serving As Prerequisites.
54817
Earth: An Intimate History
From the acclaimed author of Life and Trilobite!, a fascinating geological exploration of the earth's distant history as revealed by its natural wonders.The face of the earth, crisscrossed by ch...ains of mountains like the scars of old wounds, has changed and changed again over billions of years, and the testament of the remote past is all around us. In this book Richard Fortey teaches us how to read its character, laying out the dominions of the world before us. He shows how human culture and natural history–even the shape of cities–are rooted in this deep geological past. In search of this past, Fortey takes us through the Alps, into Icelandic hot springs, down to the ocean floor, over the barren rocks of Newfoundland, into the lush ecosystems of Hawai'i, across the salt flats of Oman, and along the San Andreas Fault. On the slopes of Vesuvius, he tracks the history of the region down through the centuries?to volcanic eruptions seen by fifteenth-century Italians, the Romans, and, from striking geological evidence, even Neolithic man. As story adds to story, the recent past connects with forgotten ages long ago, then much longer ago, as he describes the movement of plates and the development of ancient continents and seas. Nothing in this book is at rest. The surface of the earth dilates and collapses; seas and mountains rise and fall; continents move.Fortey again proves himself the ideal guide, with his superb descriptions of natural beauty, his gripping narratives, and his crystal-clear, always fascinating scientific explanations.Here is a book to change the way we see the world. The New York Times - Simon Lamb Fortey has written the ultimate travel book, a guidebook that should be read by every person who wants to really know and understand the place we live on..
98731
50 Physics Ideas You Really Need to Know
No description available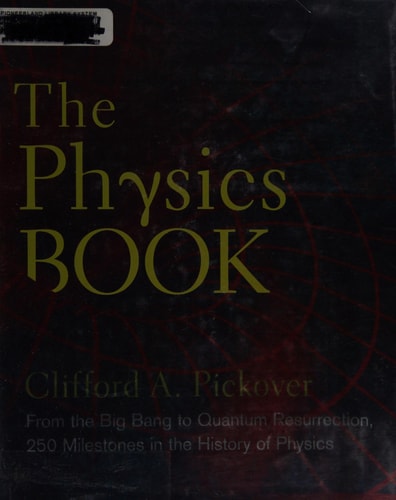 140652
The Physics Book: From the Big Bang to Quantum Resurrection, 250 Milestones in the History of Physics
Following the hugely successful The Science Book and The Math Book comes a richly illustrated chronology of physics, containing 250 short, entertaining, and thought-provoking entries. In addition... to exploring such engaging topics as dark energy, parallel universes, the Doppler effect, the God particle, and Maxwell's demon, the book's timeline extends back billions of years to the hypothetical Big Bang and forward trillions of years to a time of "quantum resurrection." Like the previous titles in this series, The Physics Book helps readers gain an understanding of major concepts without getting bogged down in complex details.  
86047
Reading the Rocks: The Autobiography of the Earth
For readers of John McPhee and Stephen Jay Gould, this engaging armchair guide to the making of the rock record shows how to understand messages written in stone Kirkus Reviews A lively introduction t...o current concepts in geology, pitched to the undergraduate reader but well suited to generalists as well. Readers who learned their geology two or three decades back have a little catching up to do: The chronologies have changed, certain theories have changed and indeed the planet itself has changed, for, as Lawrence University geology professor and debut author Bjornerud notes, "the magnitude of human actions on the Earth now matches those of natural agents." (And more: she notes that humans add 16 times more carbon dioxide to the atmosphere than do volcanoes, the next-biggest contributor to the old greenhouse effect.) Bjornerud obliges in this well-paced survey of such things as the rock cycle, thermohaline ocean circulation, and convergent evolution. Those daunted by the formidable language of geology, the stuff in which John McPhee revels, will be pleased by Bjornerud's plain-English approach, by which, for instance, she likens the Earth to a great recycling system: "There is no natural equivalent of a landfill. Nothing is unusable waste, and nothing will last forever, at least not in any particular form." Bjornerud covers a lot of ground, so to speak, with the result that some big-picture processes earn rather hasty treatment; pyroclastomaniacs are likely to clamor for more on volcanism, for instance, while fans of continental drift may want a little more plate tectonic action for their buck. Still, such are the shortfalls of surveys, and all the fascinating asides will spur motivated readers to dig deeper on their own. Who knew, for instance, that the oceans may once have been frozen during the period called Snowball Earth, that a little zircon chip fromAustralia is "the very oldest discovered object native to the Earth," that the seas of the moon are actually big holes punched into the lunar surface by massive meteorites, and that a rock has only to be ten inches wide to qualify as a boulder? These are the kinds of things of which naturalists' dreams are made, and Bjornerud introduces them memorably.
16290
Physical Geology
No description available
16289
Earth: An Introduction to Physical Geology
No description available
66744
Physics: Principles with Application
This Best-selling Algebra-based Physics Book Has Been Widely Known For Its Carefully Crafted Exposition, Strong Biological Applications, And High Degree Of Accuracy And Precision.the Fifth Edition Mai...ntains These Strengths And Brings A Conceptual Emphasis And Real-world Flavor To The Examples, Problems, And Art Program. In Addition, The New Edition Features An Unparalleled Suite Of Media And On-line Resources To Enhance The Physics Classroom. 1. Introduction -- 2. Describing Motion: Kinematics In One Dimension -- 3. Kinematics In Two Or Three Dimensions; Vectors -- 4. Motion And Force: Dynamics -- 5. Circular Motion; Gravitation -- 6. Work And Energy -- 7. Linear Momentum -- 8. Rotational Motion -- 9. Bodies In Equilibrium: Elasticity And Fracture -- 10. Fluids -- 11. Vibrations And Waves -- 12. Sound -- 13. Temperature And Kinetic Theory -- 14. Heat -- 15. Laws Of Thermodynamics -- 16. Electric Charge And Electric Field -- 17. Electric Potential And Electric Energy; Capacitance -- 18. Electric Currents -- 19. Dc Circuits And Instruments -- 20. Magnetism -- 21. Electromagnetic Induction And Faraday's Law; Ac Circuits -- 22. Electromagnetic Waves -- 23. Light: Geometric Optics -- 24. Wave Nature Of Light -- 25. Optical Instruments -- 26. Special Theory Of Relativity -- 27. Early Quantum Theory And Models Of The Atom -- 28. Quantum Mechanics Of Atoms -- 29. Molecules And Solids -- 30. Nuclear Physics And Radioactivity -- 31. Nuclear Energy; Effects And Uses Of Radiation -- 32. Elementary Particles -- 33. Astrophysics And Cosmology -- App. A. Mathematical Review -- App. B. Dimensional Analysis -- App. C. Gauss's Law -- App. D. Galilean And Lorentz Transformations -- App. E. Selected Isotopes. Douglas C. Giancoli. Includes Index.
190610
The Forensic Geology Series, Box Set
No description available
54917
Principles of Geology
As important to modern world views as any work of Darwin, Marx, or Freud, Lyell's Principles of Geology has never before been available in paperback. In the second of three volumes, Lyell (1797-1875) ...continues his uniformitarian argument of Volume I—the physical features of the earth are endlessly fluctuating around a stable mean—but focuses on organic rather than inorganic processes. Volume II is widely known because of its influence on Darwin, who took the book on his famous Beagle voyage and was stimulated by Lyell's extensive treatment of biological history and diversity.BooknewsA revision of the respected 1980 edition. It provides an updated synthesis and perspective on the field of genetic toxicology. Brusick treats the origins and fundamentals, consequences of genotoxic effects, screening chemicals for genotoxicity, risk estimation, human and environmental monitoring, the proper lab, details and evaluation of assays, biotechnology research's applicability, and the study of congenital malformations. Originally published in 1830 (John Murray, London), Lyell's methods and views were central to Darwin's thinking as he developed the theory of evolution through natural selection. Volume 1 begins Lyell's argument for uniformitarianism, the view that processes now visibly acting in the natural world are essentially the same as those that have acted throughout the history of the earth. This facsimile of the first edition adds a new introduction by Martin J.S. Rudwick. Annotation c. Book News, Inc., Portland, OR (booknews.com)