About Us
Welcome to BookAbout, the revolutionary platform for book lovers like us! We believe that finding the right book should be an enjoyable and effortless experience. As avid readers ourselves, we understand the frustration of searching through countless books by name or category, only to come up empty-handed.
That's why we created BookAbout, a platform that uses the latest AI technology to search through over 500,000 books to find the one that matches the idea of your query. With BookAbout, you can say goodbye to the traditional way of searching for books and hello to a new way of discovering your next favorite read.
We are dedicated to providing you with the best reading experience possible. We will be constantly updating our database to ensure that we have the latest books, and we're always working to improve our search algorithms to make your experience even better.
We invite you to join us on our journey of discovering the world of books. With BookAbout, you'll never have to settle for a mediocre book again. Start your search today and find your next literary adventure
339
The Purpose-Driven Life
No description available
269191
The Path Made Clear: Discovering Your Life's Direction and Purpose
Everyone Has A Purpose. And, According To Oprah Winfrey, "your Real Job In Life Is To Figure Out As Soon As Possible What That Is, Who You Are Meant To Be, And Begin To Honor Your Calling In The Best ...Way Possible." That Journey Starts Right Here. In Her Latest Book, The Path Made Clear, Oprah Shares What She Sees As A Guide For Activating Your Deepest Vision Of Yourself, Offering The Framework For Creating Not Just A Life Of Success, But One Of Significance. The Book's Ten Chapters Are Organized To Help You Recognize The Important Milestones Along The Road To Self-discovery, Laying Out What You Really Need In Order To Achieve Personal Contentment, And What Life's Detours Are There To Teach Us. Oprah Opens Each Chapter By Sharing Her Own Key Lessons And The Personal Stories That Helped Set The Course For Her Best Life. She Then Brings Together Wisdom And Insights From Luminaries In A Wide Array Of Fields, Inspiring Readers To Consider What They're Meant To Do In The World And How To Pursue It With Passion And Focus. Renowned Figures Such As Eckhart Tolle, Brene Brown, Lin-manuel Miranda, Elizabeth Gilbert, Jay-z, And Ellen Degeneres Share The Greatest Lessons From Their Own Journeys Toward A Life Filled With Purpose. Paired With Over 100 Awe-inspiring Photographs To Help Illuminate The Wisdom Of These Messages, The Path Made Clear Provides Readers With A Beautiful Resource For Achieving A Life Lived In Service Of Your Calling – Whatever It May Be.
89788
In Pursuit of Purpose: The Key to Personal Fulfillment
myles Munroe Redirects The Readers Attention To The Centrality Of Identifying One's Purpose In Life As The Key To Achievement And Fulfillment.
82511
The On Purpose Person: Making Your Life Make Sense: A Modern Parable
No description available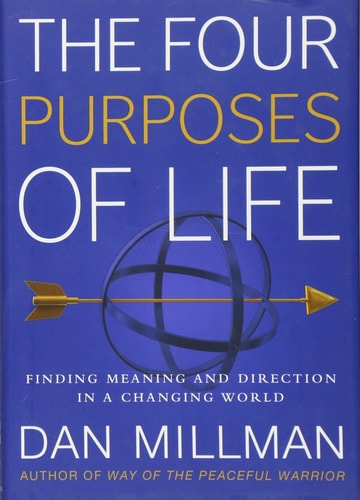 132281
The Four Purposes of Life: Finding Meaning and Direction in a Changing World
Few writers approach the topic of life purpose with the clarity of Dan Millman, whose prior book The Life You Were Born to Live has reached more than a million readers worldwide. In The Four Purposes ...of Life, Millman distills decades of exploration and experience into a concise map of what we're here to accomplish on our life's journey.This book is for anyone seeking deeper insight into themselves and their lives, but especially for those at a crossroads, facing a challenge or change, when past approaches no longer work.These four purposes - learning life's lessons, finding your career and calling, discovering your life path, and attending to this arising moment - will bring your life into sharper focus by revealing:* the value of everyday challenges in relationships, health, work, and money* how to make wiser decisions in career and relationships* our twelve required courses in the school of life* a mysterious system that clarifies your hidden calling* keys to mastering the most important purpose of allThe Four Purposes of Life can generate a quantum leap in self-knowledge, insight, and wisdom. The seeds planted will bear fruit for years to come.
158280
Your Beautiful Purpose: Discovering and Enjoying What God Can Do Through You
Let God Breathe a Fresh Purpose Into Your SoulWe so want each day to matter--to serve God in big and small ways. But how, especially when everyday responsibilities, work, fears, and other obstacles ge...t in the way?Like a trusted friend, Susie Larson shares practical, scriptural ways to overcome whatever keeps us from living fully in God's will. Susie will help you learn to:- Discern the best use of your time and gifts- Confidently pursue God's unique desires for you- Stretch your faith and deepen your impactRespond today to that nudge in your spirit--that desire to use your gifts and passions more fully in God's work. Lay down lesser commitments and lay hold of God's beautiful purpose for your life.For every woman who has ever wanted to dream big dreams for God, this book is for you!--Joanna Weaver, author of Having a Mary Heart in a Martha WorldGod will meet you in these pages.--John Eldredge, author of Wild at Heart, Captivating, and Beautiful OutlawSusie has such a beautiful way of making you feel at ease in her conversations and in her written word.--Angie Smith, author and Women of Faith speakerIncludes a study guide for personal or group use. A DVD study companion is also available separately.Susie Larson is a popular radio show host, national speaker, and author. She has a passion to see women everywhere strengthened in their faith and mobilized to live out their high calling in Jesus Christ. Susie and her husband live near Minneapolis, Minnesota.
216024
Life on Purpose: How Living for What Matters Most Changes Everything
A pioneer in the field of behavioral science delivers a groundbreaking work that shows how finding your purpose in life leads to better health and overall happiness. Your life is a boat. You need a ru...dder. But it doesn't matter how much wind is in your sails if you're not steering toward a harbor—an ultimate purpose in your life. While the greatest philosophers have pondered purpose for centuries, today it has been shown to have a concrete impact on our health. Recent studies into Alzheimer's, heart disease, stroke, depression, functional brain imaging, and measurement of DNA repair are shedding new light on how and why purpose benefits our lives. Going beyond the fads, opinions, and false hopes of "expert" self-help books, Life on Purpose explores the incredible connection between purposeful living and the latest scientific evidence on quality of life and longevity. Drawing on ancient and modern philosophy, literature, psychology, evolutionary biology, genetics, and neuroscience, as well as his experience in public health research, Dr. Vic Strecher reveals the elements necessary for a purposeful life and how to acquire them, and outlines an elegant strategy for improving energy, willpower, and long-term happiness, and well-being. He integrates these core themes into his own personal story—a tragedy that led him to reconsider his own life—and how a deeper understanding of purposeful living helped him not only survive, but thrive. Illuminating, accessible, and authentically grounded in real people's experiences, Life on Purpose is essential reading for everyone seeking lasting improvement in their lives.
143644
Following the Path: The Search for a Life of Passion, Purpose, and Joy
The Author Uses Advice And Insight To Help Readers Find Purpose, Happiness, And Fulfillment In Their Lives. Finding The Way Home To Myself -- The Search For Happiness And Meaning In Life -- What Does ...Enjoyment Have To Do With Happiness? -- What Does It Mean To Become The Fullness Of Ourselves? -- Whose Call Is It? -- Learning To Hear The Call -- What Does It Mean To Have A Purpose? -- Purpose And Passion : The Essence Of Call -- Why Does It Take So Long To Find Out Who I Am? -- What Is A Gift? -- Why Follow The Gifts? -- What Does It Mean To Have A Call? -- The First Call : An Invitation To Adulthood -- The Second Call -- The Third Call -- Is Everything We'd Like To Do Really A Call? -- How Do I Know If I Have A Call? -- How Do I Know I'm Doing What I'm Meant To Do? -- What Does A Sense Of Call Have To Do With The Spiritual Life? -- Should I Try Various Things Before Deciding What To Do? -- Is It Possible To Have More Than One Call? -- Is It Ever Too Late To Start Over? -- Where Is God In All Of This? Joan Chittister.
204344
O's Little Guide to Finding Your True Purpose
A rousing mix of prescriptive advice and personal stories of self-discovery, O's Little Guide to Finding Your True Purpose will inspire readers to identify and pursue their true calling.From the begin...ning, O, The Oprah Magazine has been a catalyst for women hoping to discover who they're meant to be. O's Little Guide to Finding Your True Purpose continues this tradition by combining actionable advice and relatable true-life accounts of trial, error, and triumph. Each entry in this engaging and thoughtful volume guides readers in their quest to come into their own. Contributors include: Marianne Williamson, on growing wise while staying rooted in love; Martha Beck, on how to live your breakthroughs; Patti Smith, on how she found her calling; Elizabeth Gilbert, on the enlightening aspects of failure; Michael Cunningham, on the revelations to be found in small moments; and many more.Each month, O, The Oprah Magazine helps readers live their best lives, serving up information and inspiration on everything from lasting love to luscious food. With a signature blend of candor and humor, fresh advice and timeless wisdom, the magazine offers people the tools they need to, as Oprah Winfrey says, "become more of who they are"-to love themselves more deeply, to look hopefully toward the future, and to leap wholeheartedly into the adventure of being alive.
9501
The Purpose of Your Life: Finding Your Place In The World Using Synchronicity, Intuition, And Uncommon Sense
The co-author of The Celestine Prophecy Experiential Guide helps readers uncover the unsuspected, untapped power of synchronicity and intuition that will bring success, satisfaction, and serenity. Eve...ryone really has a purpose in life, says Carol Adrienne in her new guide to harnessing the power inside yourself. The question is: How do you learn to go with the flow and let your true nature guide you?Chapter by chapter, The Purpose of Your Life explains how to locate the source of your innate energy and focus it, how to align yourself with the natural forces that swirl around us always, and how to develop the intuition that fosters synchronicity. The book is packed with illuminating anecdotes and profiles of fascinating people — from artists to urban planners to Zen masters — who describe how they found their own purposes. There are practical exercises throughout, along with charts, self-questionnaires, and other tools that help you understand yourself and your deepest aspirations.As you learn to recognize and trust the voice of intuition, you'll find new doors opening and new possibilities everywhere. You'll feel invigorated by the potential you've unleashed, a power that will only grow with each new accomplishment. And you'll discover the serenity and satisfaction that come only to those who are living life to the fullest. The Force is with you — all you have to do is reach out and start to use it.