About Us
Welcome to BookAbout, the revolutionary platform for book lovers like us! We believe that finding the right book should be an enjoyable and effortless experience. As avid readers ourselves, we understand the frustration of searching through countless books by name or category, only to come up empty-handed.
That's why we created BookAbout, a platform that uses the latest AI technology to search through over 500,000 books to find the one that matches the idea of your query. With BookAbout, you can say goodbye to the traditional way of searching for books and hello to a new way of discovering your next favorite read.
We are dedicated to providing you with the best reading experience possible. We will be constantly updating our database to ensure that we have the latest books, and we're always working to improve our search algorithms to make your experience even better.
We invite you to join us on our journey of discovering the world of books. With BookAbout, you'll never have to settle for a mediocre book again. Start your search today and find your next literary adventure
38452
Dragon's Blood (Pit Dragon Chronicles, #1)
training A Dragon To Be A Fighting Champion Is The Only Way To Freedom For Fifteen-year-old Jakkin. "an Original And Engrossing Fantasy."—the Horn Bookkathleen Karr - Children's Liter...aturebook One Of The Prolific Yolen's Fantasy Series, Pit Dragon Trilogy, Sets Up Her Premise: Austar Iv, Originally A Convict Planet In A Distant Galaxy, Has Evolved Into A Popular Intergalactic R&r Destination Featuring Dragon Pit Fighting. Enter Fifteen-year-old Bonder Jakkin Who Means To Fill His Bond Bag—attaining Master, Or Free Status—by Stealing And Training A Dragon For The Pits. Such Theft Is Apparently Looked Upon As A Right Of Passage For The Brightest Of Bonders, But Few Succeed. Needless To Say, Jakkin Is More Than Motivated; He Also Has A Natural Affinity For Dragons. Yolen's Coming-of-age Tale Is Filled With Believable (once One Makes The Leap Into The Fantasy Mindset) Details On Dragon Husbandry And Physiology, A Suitable Villain, And The Beginnings Of A Romance With The Equally Independent-minded Akki. Yet The Best Parts Describe Jakkin Playing With His Very Own Dragon—turning This Into A Kind Of Edge-of-the-universe Boy And His Dog Story. 2004 (orig. 1982), Magic Carpet/harcourt, Ages 12 Up.
23450
The Book of Dragons
No description available
111926
The Dragon Book
Strong storytelling and new takes on a beloved fantasy topic result in a welcome addition to the literature of dragons. (Library Journal) Whether portrayed as fire-breathing reptilian beasts or as no...ble creatures of power and grace, dragons have been found in nearly every culture's mythology. Now, in The Dragon Book, today's greatest fantasists reignite the fire... Includes stories by New York Times bestselling authors Jonathan Stroud, Gregory Maguire, Garth Nix, Diana Gabaldon, Tamora Pierce, Harry Turtledove, Sean Williams, and Tad Williams, as well as tales by Peter Beagle, Jane Yolen, Adam Stemple, Cecelia Holland, Naomi Novik, Kage Baker, Samuel Sykes, Diana Wynne Jones, Mary Rosenblum, Tanith Lee, Andy Duncan, and Bruce Coville.VOYAAs the preface says, Avram Davidson once wrote, Although the wombat is real and the dragon is not, nobody knows what a wombat looks like and everyone knows what a dragon looks like. That might be true, but no two dragons in this new collection of stories bear any resemblance to each other. There are Asian dragons, traditional monstrous western dragons, science fiction dragons, and intelligent dragon-like beasts. Following their well-received collection of original wizard stories from 2007 (which opened with the Neil Gaiman story that spawned his now-Newbery Award-winning Graveyard Book), Dann and Dozois return with a collection of nineteen original stories featuring everyone's favorite mythical beast. As different as the dragons are to each other, so too are the tones and settings, from Naomi Novik's humorous tale of a dissipated Roman Patrician who is sentenced to the impossible task of slaying a dragon and who finds succeeding more perilous than failing to Bruce Coville's dark tale of enchanted princess May Margaret who discovers that once you have been a dragon it is difficult to be a mere maiden again. Although the collection is nearly half populated by juvenile and young adult authors, the likes of Jane Yolen and her son Adam Stemple's (whose familial relationship is oddly left out of their bio) language and sexual situations make it more of an adult collection. That said, teens will still enjoy the bulk of the stories. Reviewer: Timothy Capehart
176790
The Complete Book of Dragons: A Guide to Dragon Species
Presents A Guide To All The Dragons In The World Of The Movie.,this Guide Is For Fans Of The How To Train Your Dragon Series That Inspired The Hit Move And Tv Show. This Gift Book Features All Of The ...Dragon Species From The Series Plus Brand-new Ones Created Just For This Book, With Color Illustrations Of Each And Every One!-- Publisher's Web Site.
120361
Wings of Fire
dragons: Fearsome Fire-breathing Foes, Scaled Adversaries, Legendary Lizards, Ancient Hoarders Of Priceless Treasures, Serpentine Sages With The Ages' Wisdom, And Winged Weapons Of War... Wings Of... Fire Brings You All These Dragons, And More, Seen Clearly Through The Eyes Of Many Of Today's Most Popular Authors, Including Peter Beagle, Holly Black, Orson Scott Card, Charles De Lint, Diana Wynne Jones, Mercedes Lackey, Ursula K Le Guin, Dean R Koontz, George R. R. Martin, Anne Mccaffrey, Elizabeth Moon, Garth Nix, And Many Others.publishers Weeklythis Exemplary Anthology, Staffed By A Host Of Award-winning Authors, Showcases Every Type Of Dragon: Nature Gods And Mechanical Beasts, Intelligent Companions, And Feral Ravagers Of The Countryside. The Two Original Stories, Holly Black's Sobek And Margo Lanagan's The Miracle Aquilina, Are Exceptional, As Are Many Of The Reprints, Such As Anne Mccaffrey's Pernese Weyr Search; George R. R. Martin's Celebrated Novella, The Ice Dragon; Peter S. Beagle's Narrative Poem, Stable Of Dragons; Jane Yolen's Arthurian The Dragon's Boy; Naomi Novik's Temeraire Tie-in, In Autumn, A White Dragon Looks Over A Wide River; Harlan Ellison And Robert Silverberg's Urban Fantasy Collaboration, The Dragon On The Bookshelf; And Roger Zelazny's Humorous The George Business. The Verbal Magic Of These Stories Will Reignite Draconian Passion In Even The Most Jaded Fantasy Reader. (aug.)
19675
A Dragon-Lover's Treasury of the Fantastic
dragons Are Monsters, Mages, Heroes, Horrors. Dragons Thrill Our Dreams And Haunt Our Legends. Now Margaret Weis, Coauthor Of The New York Times Bestselling Dragonlance And Death Gate Series, Author O...f The Star Of The Guardians Series, And One Of The World's Leading Dragonists And Dracophiles, Gathers The Greatest Classic Dragon Stories Of Our Time, Written By The Winners Of Every Award In The Fields Of Fantasy And Science Fiction. Book Jacket.
10462
The Book of the Dragon
The mystique of dragons--soaring above castle spires, setting the world aflame--bursts into glowing life in breathtaking images by a major artist. An unforgettably original volume, The Book of the Dra...gon offers a glimpse of a culture we can only imagine. They lurk in the most hidden corners of the world: the powerful and beautiful creatures known as dragons. We know them as the terrifying beasts of fairy tales, but their own story has remained a mystery--until now. Ciruelo, an illustrator of astounding skill, delves into their secret universe, revealing a rich and fascinating culture filled with poetry, magic, enchantment, and knowledge. Each of these wondrous creatures has its own unique personality and history, and it's captured dramatically on these spectacular pages. But the revelations go beyond the images, as we gain insight into their psychological characteristics; encounter many different types (Earth Dragons, Water Dragons, Fire Dragons, and the legendary Golden Dragon); learn about their long-held customs; and explore the many legends in which they have figured so prominently--including the heroic tales of Perseus, Hercules, and Tristan.
77726
Dragons
No description available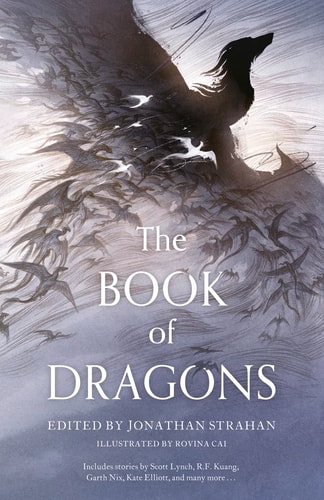 291203
The Book of Dragons
No description available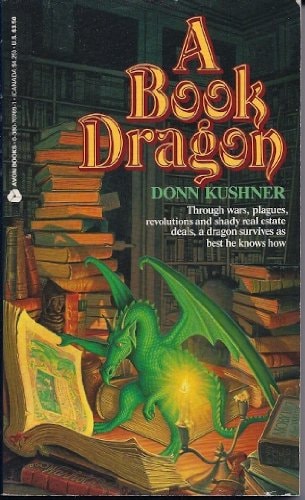 24071
A Book Dragon
No description available