About Us
Welcome to BookAbout, the revolutionary platform for book lovers like us! We believe that finding the right book should be an enjoyable and effortless experience. As avid readers ourselves, we understand the frustration of searching through countless books by name or category, only to come up empty-handed.
That's why we created BookAbout, a platform that uses the latest AI technology to search through over 500,000 books to find the one that matches the idea of your query. With BookAbout, you can say goodbye to the traditional way of searching for books and hello to a new way of discovering your next favorite read.
We are dedicated to providing you with the best reading experience possible. We will be constantly updating our database to ensure that we have the latest books, and we're always working to improve our search algorithms to make your experience even better.
We invite you to join us on our journey of discovering the world of books. With BookAbout, you'll never have to settle for a mediocre book again. Start your search today and find your next literary adventure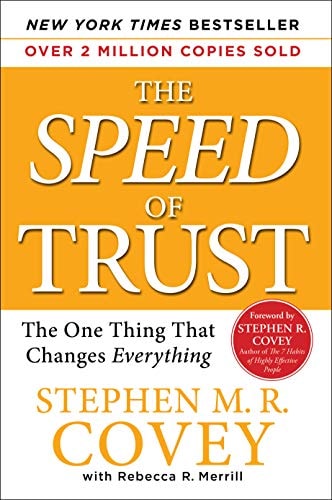 10777
The Speed of Trust: The One Thing that Changes Everything
This Book Challenges Our Age-old Assumption That Trust Is Merely A Soft, Social Virtue, And Instead Demonstrates That It Is A Hard-edged, Economic Driver--a Learnable And Measurable Skill That Makes O...rganizations More Profitable, People More Promotable, And Relationships More Energizing. Ceo Covey Informs Readers How To Inspire Lasting Trust In Their Personal And Professional Relationships, And In So Doing To Create Unparalleled Success And Sustainable Prosperity In Every Dimension Of Life. He Shows Business, Government, And Education Leaders How To Quickly And Permanently Gain The Trust Of Their Clients, Coworkers, Partners, And Constituents. Like A Ripple In The Pond, Trust Begins Within Each Of Us Personally, Continues Into Our Relationships, Expands Into Our Organizations, Extends Into Our Marketplace Relationships, And Ultimately Encompasses Our Global Society. Covey Presents A Road Map To Establish Trust On Every Level, Build Character And Competence, Enhance Credibility, And Create Leadership That Inspires Confidence.--from Publisher Description. Acknowledgments -- Foreword / By Dr. Stephen R. Covey -- The One Thing That Changes Everything -- The First Wave--self Trust -- The Second Wave--relationship Trust -- The Third, Fourth, And Fifth Waves--stakeholder Trust -- Inspiring Trust. Stephen M.r. Covey With Rebecca R. Merrill. Includes Bibliographical References (p. [325]-337) And Index.
59239
The Trusted Advisor
No description available
150686
What Makes Love Last?: How to Build Trust and Avoid Betrayal
A world-renowned relationship expert shares his research about love and what it takes to develop a trustful, intimate, and emotionally fulfilling bond. In this insightful book, celebrated research psy...chologist and couples counselor John Gottman plumbs the mysteries of love and shares the results of his famous "Love Lab": Where does love come from? Why does some love last, and why does some fade? And how can we keep it alive? Based on laboratory findings, this book shows readers how to identify signs, behaviors, and attitudes that indicate a fraying relationship and provides strategies for repairing what may seem lost or broken.
86600
Trust (Fearless, #11)
No description available
175287
Trust Me (The Trust Me Trilogy, #1)
No description available
21154
Trust Me
The theme of trust, betrayed or fulfilled, runs through this collection of short stories: Parents lead children into peril, husbands abandon wives, wives manipulate husbands, and time undermines all. ...Love pangs, a favorite subject of the author, take on a new urgency as earthquakes, illnesses, lost wallets, and deaths of distant friends besiege his aging heroes and heroines. One man loves his wife's twin, and several men love the imagined bliss of their pasts; one woman takes an impotent lover, and another must administer her father's death. Bourgeois comforts and youthful convictions are tenderly seen as certain to erode: "Man," as one of these stories concludes, "was not meant to abide in paradise."
140962
I Love You, But I Don't Trust You: The Complete Guide to Restoring Trust in Your Relationship
No description available
139490
Smart Trust: How People, Companies, and Countries Are Prospering from High Trust in a Low Trust World
No description available
128592
Daring to Trust: Opening Ourselves to Real Love and Intimacy
according To Psychotherapist David Richo, All The Major Relationship Struggles Are Fundamentally Trust Issues, Whether It's Fear Of Commitment, Fear Of Abandonment, Communication Problems, Jealo...usy, Or A Tendency To Be Controlling. In daring To Trust, He Explores The Importance Of Trust Throughout Our Emotional Lives: How It Develops In Childhood And How It Becomes An Essential Aspect Of Healthy Adult Relationships. Richo Emphasizes That Developing Trust In Others Begins By Developing True Trust In Ourselves—in Our Feelings, Our Body, And In Our Inner Voice—and He Offers Practical Exercises For Exploring And Enhancing Our Sense Of Trust. topics Include:    • how We Learn To Trust In Relationships    • why We Fear Trusting    • how To Know If Someone Is Trustworthy    • what To Do When Trust Is Broken    • developing Trust In Ourselves As The Basis For Trusting Others
160056
Trust Works!: Four Keys to Building Lasting Relationships
New York Times bestselling author and leadership expert Ken Blanchard's popular TrustWorks! training program is now available in book form! Trust Works!: Four Keys to Building Lasting Relationships is... an insightful guide designed to help people navigate one of the most complex issues that affects all areas of our lives: trust. In Trust Works!, Ken Blanchard, Cynthia Olmstead, and Martha Lawrence demonstrate how to get along better with those around us. In today's polarized society, building trust—and sustaining it—has never been more important or seemingly elusive. Trust Works! provides a common language and essential skills that can replace dissension with peace and cooperation and help us all work together productively and in harmony. Learn how the apply the "ABCD trust" model to address the factors that lead to discord, including low morale, miscommunication, poor response to problems and issues, and dysfunctional leadership.