About Us
Welcome to BookAbout, the revolutionary platform for book lovers like us! We believe that finding the right book should be an enjoyable and effortless experience. As avid readers ourselves, we understand the frustration of searching through countless books by name or category, only to come up empty-handed.
That's why we created BookAbout, a platform that uses the latest AI technology to search through over 500,000 books to find the one that matches the idea of your query. With BookAbout, you can say goodbye to the traditional way of searching for books and hello to a new way of discovering your next favorite read.
We are dedicated to providing you with the best reading experience possible. We will be constantly updating our database to ensure that we have the latest books, and we're always working to improve our search algorithms to make your experience even better.
We invite you to join us on our journey of discovering the world of books. With BookAbout, you'll never have to settle for a mediocre book again. Start your search today and find your next literary adventure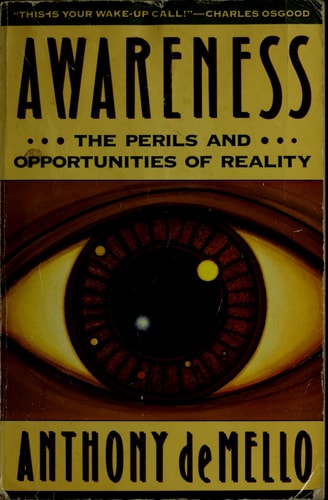 22923
Awareness: The Perils and Opportunities of Reality
"This is your wake-up call! You may not have even realized you were sleep-walking. Most of us are most of the time. Awareness is an eye-opener. It's Anthony de Mello telling you gently but firmly, 'It...'s time to get up now.'" —Charles Osgood of "CBS Sunday Morning" and "The Osgood File" "Awareness will be the critical test of American business in the next decade. I call it the 'business of awareness.'" —F.X. Maguire, Hearth Communications Group The heart of Anthony de Mello's bestselling spiritual message is awareness. Mixing Christian spirituality, Buddhist parables, Hindu breathing exercises, and psychological insight, de Mello's words of hope come together in Awareness in a grand synthesis. In short chapters for reading in quiet moments at home or at the office, he cajoles and challenges: We must leave this go-go-go world of illusion and become aware. And this only happens, he insists, by becoming alive to the needs and potential of others, whether at home or in the workplace. Here, then, is a masterful book of the spirit, challenging us to wake up in every aspect of our lives. Mixing Christian spirituality, Buddhist parables, Islamic sayings, Hindu breathing exercises, and psychological insight, spiritualist and Jesuit priest Anthony de Mello challenges readers to identify our most submerged, darkest feeling, accept them, not let them rule us, and allow this new awareness of ourselves to change us.
57767
Self-Directed Behavior: Self-Modification for Personal Adjustment
No description available
101951
Personal Development for Smart People: The Conscious Pursuit of Personal Growth
Despite promises of "fast and easy" results from slick marketers, real personal growth is neither fast nor easy. The truth is that hard work, courage, and self-discipline are required to a...chieve meaningful results—results that are not attained by those who cling to the fantasy of achievement without effort.Personal Development for Smart People reveals the unvarnished truth about what it takes to consciously grow as a human being. As you read, you'll learn the seven universal principles behind all successful growth efforts (truth, love, power, oneness, authority, courage, and intelligence); as well as practical, insightful methods for improving your health, relationships, career, finances, and more.You'll see how to become the conscious creator of your life instead of feeling hopelessly adrift, enjoy a fulfilling career that honors your unique self-expression, attract empowering relationships with loving, compatible partners, wake up early feeling motivated, energized, and enthusiastic, achieve inspiring goals with disciplined daily habits and much more!With its refreshingly honest yet highly motivating style, this fascinating book will help you courageously explore, creatively express, and consciously embrace your extraordinary human journey.
236949
Insight: Why We're Not as Self-Aware as We Think, and How Seeing Ourselves Clearly Helps Us Succeed at Work and in Life
The First Definitive Book On The Science Of Self-awareness, Insight Is A Fascinating Journey Into Everyone's Favorite Topic: Themselves. Do You Understand Who You Really Are? Or How Others Really See ...You? We All Know People With A Stunning Lack Of Self-awareness--but How Often Do We Consider Whether We Might Have The Same Problem? Research Shows That Self-awareness Is The Meta-skill Of The 21st Century--the Foundation For High Performance, Smart Choices, And Lasting Relationships. Unfortunately, We Are Remarkably Poor Judges Of Ourselves And How We Come Across, And It's Rare To Get Candid, Objective Feedback From Colleagues, Employees, And Even Friends And Family. Integrating Hundreds Of Studies With Her Own Research And Work In The Fortune 500 World, Organizational Psychologist Tasha Eurich Shatters Conventional Assumptions About What It Takes To Truly Know Ourselves--like Why Introspection Isn't A Bullet Train To Insight, How Experience Is The Enemy Of Self-knowledge, And Just How Far Others Will Go To Avoid Telling Us The Truth About Ourselves. Through Stories Of People Who've Made Dramatic Gains In Self-awareness, She Offers Surprising Secrets, Techniques And Strategies To Help Readers Do The Same - And Therefore Improve Their Work Performance, Career Satisfaction, Leadership Potential, Relationships, And More -- Provided By Publisher.
42131
Your Sacred Self: Making the Decision to Be Free
No description available
53023
Journal to the Self: Twenty-Two Paths to Personal Growth - Open the Door to Self-Understanding by Writing, Reading, and Creating a Journal of Your Life
A nationally known therapist provides a powerful tool for better living—a step-by-step method to personal growth, creative expression, and career enhancement through journal writing. ... Written by a therapist, this is a guide for those who want to keep a journal as a tool for personal growth.
32054
50 Self-Help Classics: 50 Inspirational Books to Transform Your Life from Timeless Sages to Contemporary Gurus
this Is The First And Only Bitesized Guide To The Works That Have Captured The Imagination Of Millions And Inspired Readers Everywhere To Follow Their Dreams.
258990
Self-Knowledge
No description available
88560
If Only I'd Listen To Myself: Resolving The Conflicts That Sabotage Our Lives
No description available
24868
Self Analysis
No description available