About Us
Welcome to BookAbout, the revolutionary platform for book lovers like us! We believe that finding the right book should be an enjoyable and effortless experience. As avid readers ourselves, we understand the frustration of searching through countless books by name or category, only to come up empty-handed.
That's why we created BookAbout, a platform that uses the latest AI technology to search through over 500,000 books to find the one that matches the idea of your query. With BookAbout, you can say goodbye to the traditional way of searching for books and hello to a new way of discovering your next favorite read.
We are dedicated to providing you with the best reading experience possible. We will be constantly updating our database to ensure that we have the latest books, and we're always working to improve our search algorithms to make your experience even better.
We invite you to join us on our journey of discovering the world of books. With BookAbout, you'll never have to settle for a mediocre book again. Start your search today and find your next literary adventure
10526
Aliens
No description available
236487
Aliens: Bug Hunt
When The Colonial Marines Set Out After Their Deadliest Prey, The Xenomorphs, It's What Corporal Hicks Calls A Bug Hunt--kill Or Be Killed. Here Are Fifteen All-new Stories Of Such Close Encounters. S...et During The Events Of All Four Alien Films, Sending The Marines To Alien Worlds, To Derelict Space Settlements, And Into The Nests Of The Universe's Most Dangerous Monsters, These Adventures Are Guaranteed To Send The Blood Racing.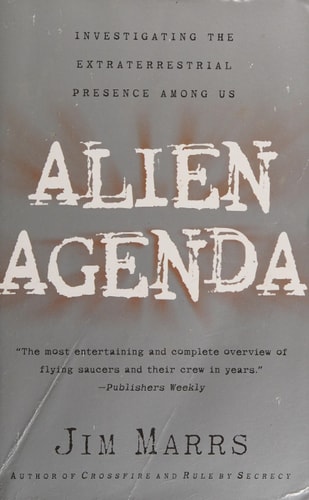 33378
Alien Agenda: Investigating the Extraterrestrial Presence Among Us
The truth begins here Author and award-winning Journalist Jim Marrs has uncovered compelling new evidence regarding extraterrestrials-that alien life forms have not only visited our planet in the past..., but are among us right now. Drawing on numerous eyewitness accounts, highly classified CIA reports, and his own meticulous research, Marrs marshals an impressive array of facts to confirm the reality of UFOs—as well as the depth of the government campaign to keep America in the dark. Here is information unavailable in any other single source, including: Intriguing insights into the 1947 Roswell crash and the U.S. military's efforts to suppress all public inquiries Detailed accounts of UFO landing sites in South America and of abductions in the U.S. Vivid descriptions of UFOs by Apollo astronauts-in their own words Tantalizing clues to the alien timetable for revealing their plans here And much more!
8679
Alien Sex: 19 Tales by the Masters of Science Fiction and Dark Fantasy
No description available
29608
Aliens vs. Predator Omnibus, Vol. 1
mankind's Two Ultimate Nightmares Come Together In Mortal Combat, And Whoever Wins - We Lose. On The Remote Planet Ryushi, A Small Ranching Community Becomes An Unwilling Participant In A Deadly Ritua...l: Extraterrestrial Predators Have Seeded Ryushi With Alien Eggs In Order To Create The Ultimate Hunt. But What The Predators Don't Know Is That An Alien Queen Egg Is Amongst Those They've Sent As Potential Hunting Stock, And When The Predators Arrive, The Hunters Become The Hunted Amidst A Monumental Swarm Of Aliens, And They May Need To Turn To The Very Same Humans They Regard As Little More Than Potential Trophies To Give Them Any Hope Of Survival.
184311
Alien's Bride: Book One
No description available
97497
Aliens Omnibus, Vol. 2
Many Humans Have Died Horribly At The Claws Of The Alien. The Surface Ofearth Has Been Devastated To Cleanse The Beasts From Our World. But Thecommercial Value Of This Scourge Has Never Been In Doubt,... Especially When Thespecial Properties Of The Alien Queen's Royal Jelly Are Discovered. Willmankind Once Again Risk Its Very Survival As A Species In Order To Sleep Withthe Alien?dark Horse Comics' Critically Acclaimed Aliens Seriesset The Bar For How The Universe Of A Popular Film Could Be Expanded Throughgraphic Fiction. Aliens Omnibus Volume 2 Collects More Of These Excitingseries In A Value-priced, Quality-format Omnibus, Featuring Over Four Hundredstory Pages In Full Color. Includes The Complete Story Arcs Of Genocide,harvest And The Never-before-collected, Epic-length Colonialmarines.
15431
A Plague of Demons & Other Stories
A complete novel of science fiction adventure and a host of short novels in one large volume. A Plague of Demons: One man found out the secret behind the aliens who controlled the world, harvestin...g "dead" soldiers to fight wars on distant worlds-and only he could stop them, if he could keep from getting harvested himself. Thunderhead: An officer has manned an outpost on a lonely planet for years, watching for the alien enemy that may never come, forgotten by the bureaucracy which sent him there-and then the enemy came! Test to Destruction: Aliens are testing a human prisoner to determine how serious a foe the human race might be-and they have chosen the wrong man to Test to Destruction. And much more.
90582
The Alien Way
No description available
154510
Bruce Coville's Book of Aliens: Tales to Warp Your Mind
No description available