About Us
Welcome to BookAbout, the revolutionary platform for book lovers like us! We believe that finding the right book should be an enjoyable and effortless experience. As avid readers ourselves, we understand the frustration of searching through countless books by name or category, only to come up empty-handed.
That's why we created BookAbout, a platform that uses the latest AI technology to search through over 500,000 books to find the one that matches the idea of your query. With BookAbout, you can say goodbye to the traditional way of searching for books and hello to a new way of discovering your next favorite read.
We are dedicated to providing you with the best reading experience possible. We will be constantly updating our database to ensure that we have the latest books, and we're always working to improve our search algorithms to make your experience even better.
We invite you to join us on our journey of discovering the world of books. With BookAbout, you'll never have to settle for a mediocre book again. Start your search today and find your next literary adventure
55033
Invasion
Tout Commence Par Un Mystérieux Disque Noir, Fait D'une Matière Inconnue, Avec Lequel Un étudiant Californien, Beau, Se Blesse Au Doigt En L'examinant. Pris D'une Violente Fièvre, Beau Se Rétablit Trè...s Vite... Mais Son Comportement N'est Plus Le Même. À La Fois Euphorique Et Incohérent, Il Commence à Inquiéter Sérieusement Cassy, Son Amie. Et L'épidémie Se Répand. Ceux Qu'elle Ne Tue Pas, à Leur Tour, Changent De Personnalité, Pour S'agréger Bientôt à Une Sorte De Secte Prosélyte, Qui Se Répand Dans Le Monde Entier, Cherchant à Contaminer Les Autres. D'où Provient Ce Virus Redoutable ? Quelle Puissance Invisible S'exerce à Travers Lui, Cherchant à Sélectionner Les Humains Et à Les Transformer En Les Mettant à Son Service ? Sheila, Médecin Hospitalier, Jonathan, Informaticien, Et Quelques Autres Vont Prendre Conscience Du Danger Et Mettre En Commun Leurs Forces Pour Contrer Ce Virus Dont Ils Ne Savent Qu'une Chose : Il N'est Pas D'origine Terrestre. Maître Du Thriller Médical, Robin Cook Rejoint Ici L'anticipation. Une Anticipation Qui, à L'heure Des épidémies Nouvelles Et Des Manipulations Bio-technologiques, Pourrait Bien N'être Pas Invraisemblable...
144498
Anomaly
No description available
177692
Alien Contact (The Slaver Wars, #2)
No description available
212091
Contact (Alien Invasion, #2)
No description available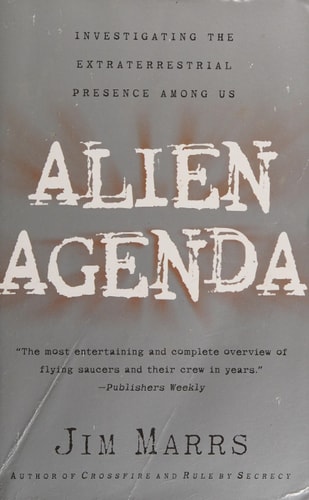 33378
Alien Agenda: Investigating the Extraterrestrial Presence Among Us
The truth begins here Author and award-winning Journalist Jim Marrs has uncovered compelling new evidence regarding extraterrestrials-that alien life forms have not only visited our planet in the past..., but are among us right now. Drawing on numerous eyewitness accounts, highly classified CIA reports, and his own meticulous research, Marrs marshals an impressive array of facts to confirm the reality of UFOs—as well as the depth of the government campaign to keep America in the dark. Here is information unavailable in any other single source, including: Intriguing insights into the 1947 Roswell crash and the U.S. military's efforts to suppress all public inquiries Detailed accounts of UFO landing sites in South America and of abductions in the U.S. Vivid descriptions of UFOs by Apollo astronauts-in their own words Tantalizing clues to the alien timetable for revealing their plans here And much more!
205389
The Alien Chronicles
Intelligent Life On Other Planets: It's The Brass Ring Of Space Exploration. Do Extra-terrestrial Species Exist? Will We Ever Make Contact? Perhaps, Have We Made Contact Already? In The Latest Additio...n To The Future Chronicles Series Of Sci-fi Anthologies, The Answer To All Of These Question Is A Resounding Yes. From First Contact To Last Stand, These Original Short Stories Range From Quiet Tales Of Personal Connection To Adrenaline-infused Inter-species Space Conflicts. Each Tale Promises To Present You With A Different Look At What Intelligent Alien Life Might Be Like -- And How We Earthlings Might Respond To It. The Alien Chronicles Features Stories By Bestselling Authors Hugh Howey (wool), B. V. Larson (the Starforce Series), And Jennifer Foehner Wells (fluency), Plus Twelve More Of Today's Top Authors In Science Fiction.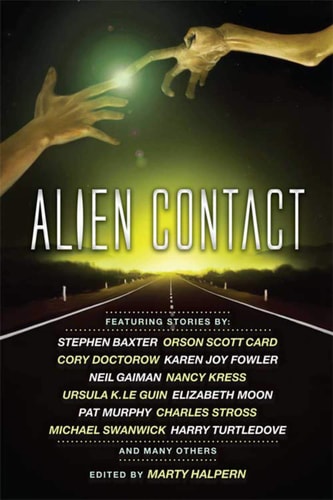 139382
Alien Contact
Are we alone? From War of the Worlds to Invasion of the Body Snatchers, ET to Close Encounters, creators of science fiction have always eagerly speculated on just how the story of alien contact would ...play out. Editor Marty Halpern has gathered together some of the best stories of the last 30 years, by today''s most exciting genre writers, weaving a tapestry that covers a broad range of scenarios: from the insidious, to the violent, to the transcendent.
57172
Dimensions: A Casebook of Alien Contact
Throughout the modern UFO era, thousands of honest scientists and informed laymen have seen through the official denials, the suppressions, and the whitewash — and realized that, indeed, we are not al...one. To them, author Jacques Vallee, the world's most renowned UFO expert, presents a tantalizing question. What if — just if — these alien visitors are Not from other planets? What if they have always been among us? What if we can finally prove the case to which so much evidence points: That they have lived on earth for centuries, perhaps, from the beginning of time. That they may inhabit another dimension, a dimension so startlingly different from our own that our consciousness lurches to experience it religiously. At once exhilarating and persuasive, Vallee's brilliant insights include a metaphysical odyssey through some of the most mystifying incidents in religious and mythological lore. The miraculous visions of the Lady of Fatima in 1917. The "cloudships" said to have visited medieval France. The ancient Tzeltal Indians of Mexico kidnapped by flying half humans. With his unparalleled knowledge of thousands of close encounters. Vallee — the UFO authority celebrated in Steven Spielberg's Close Encounters of the Third Kind — constructs an eye-opening, yet ultimately irresistible theory: one that reveals the shocking reality of the ever-present, ever-powerful interdimensional aliens of Earth... and humanity's persistent inability to understand them. From Ezekiel's fiery wheel to current government cover-ups, UFOs have always been with us. Vallee explores his theory that these beings are not extraterrestrial but creatures of earth--inhabitants of a dimension shockingly different from our own!
24342
Contacting Aliens: An Illustrated Guide to David Brin's Uplift Universe (The Uplift Saga)
the Award-winning uplift novels Comprise One Of The Greatest Achievements In Science Fiction History. Dramatic, Thought-provoking, And Inventive, These Books Describe A Fully Realized World Rich In Ch...aracter, Detail, And Ideas. Now uplift Author David Brin Collaborates With Acclaimed Artist Kevin Lenagh To Compile The Definitive Guide To The Species, Societies, And Technology Of One Of The Greatest Feats Of Literary World-building Ever Accomplished.contacting Alienshere In The Form Of A Handbook For Terran Field Agents Is A Detailed Look At uplift's Many Alien Races—from The Friendly Tymbrimi To The Warlike Tandu, From The Wise And Enigmatic Kanten To The Fiercely Reptilian Soro, From The Bureaucratic Hoon To The Manipulative Thennanin—their Physiology, Psychology, History; Their Clans And Alliances; And Their Shifting Attitudes Toward Earth And Its Representatives.here, Too, Is A History Of Earth's Contact And Challenging Interactions With The Mysterious And Powerful Civilization Of Five Galaxies, A Look At Its Institutions, Languages, And Customs, Plus A Time Line Of Momentous Events Going Back 3 Billion Years. For The Millions Of Fans Of The uplift Novels, This Long-awaited Guide Will Be An Essential Reference Work, Filled With Vital Information And Never-before-seen Illustrations That Reveal, For The First Time In One Volume, The Keys To The Ambitious Vision And Bold Speculation Of The uplift Universe.publishers Weeklyhugo And Nebula Award-winning Author David Brin Teams Up With Illustrator Kevin Lenagh To Offer Contacting Aliens: An Illustrated Guide To David Brin's Uplift Universe, The Definitive Guide For Any Fan Of The Uplift Series Or, As Brin Would Have It, A Training Handbook For Terragen Field Agents. From Biological And Psychological Descriptions Of Aliens (the Thennanin Have Gill-like Breathing Slits, The Hoon Are Stodgy Pencil-pushers) To Clan Alliances And The 12 Official Languages Of Galactic Society, This Volume Overflows With Uplift Information, Not To Mention Humor And Imagination. Copyright 2002 Cahners Business Information.
154510
Bruce Coville's Book of Aliens: Tales to Warp Your Mind
No description available