About Us
Welcome to BookAbout, the revolutionary platform for book lovers like us! We believe that finding the right book should be an enjoyable and effortless experience. As avid readers ourselves, we understand the frustration of searching through countless books by name or category, only to come up empty-handed.
That's why we created BookAbout, a platform that uses the latest AI technology to search through over 500,000 books to find the one that matches the idea of your query. With BookAbout, you can say goodbye to the traditional way of searching for books and hello to a new way of discovering your next favorite read.
We are dedicated to providing you with the best reading experience possible. We will be constantly updating our database to ensure that we have the latest books, and we're always working to improve our search algorithms to make your experience even better.
We invite you to join us on our journey of discovering the world of books. With BookAbout, you'll never have to settle for a mediocre book again. Start your search today and find your next literary adventure
101239
The Gift of Years: Growing Older Gracefully
Looks At The Many Dimensions Of Aging And Considers The Joys Of This Special Stage Of Life And The Rewards Of Being Open To New Experiences And New Relationships.
258005
On the Brink of Everything: Grace, Gravity, and Getting Old
From Beloved And Bestselling Author Parker J. Palmer (let Your Life Speak, The Courage To Teach, Healing The Heart Of Democracy), Comes A Beautiful Book Of Reflections On What We Can Learn As We Move ...Closer To The Brink Of Everything. Drawing On Eight Decades Of Life -- And His Career As A Writer, Teacher, And Activist -- Palmer Explores The Questions Age Raises And The Promises It Holds. Old, He Writes, Is Just Another Word For Nothing Left To Lose, A Time To Dive Deep Into Life, Not Withdraw To The Shallows. But This Book Is Not For Elders Only. It Was Written To Encourage Adults Of All Ages To Explore The Way Their Lives Are Unfolding. It's Not A How-to-do-it Book On Aging, But A Set Of Meditations In Prose And Poetry That Turn The Prism On The Meaning(s) Of One's Life, Refracting New Light At Every Turn. From Beginning To End, The Book Is Laced With Humor As Well As Gravitas -- Beautifully Enhanced By Three Free Downloadable Songs From The Gifted Singer-songwriter Carrie Newcomer, Written In Response To Themes In The Book.
43738
When I Am Old I Shall Wear Purple: Large Print
No description available
75081
Aging with Grace: What the Nun Study Teaches Us About Leading Longer, Healthier, and More Meaningful Lives
No description available
21438
Old Friends
No description available
173187
On Grace:First Edition
Grace May Is Truly Excited About Turning 40 In A Few Months. And Now That Her Boys Are Both In School And She Has A Stimulating New Writing Job, The Next Chapter In Her Life Can Finally Begin. She Can...'t Wait To Rediscover The Intelligent And Interesting Woman Deeply Buried Under The Layers Of Mother And Wife. But When Grace Loses Her Job And Gets Unexpected News From Her Husband And Her Best Friend, Life Suddenly Gets Complicated. Grace Stands To Lose Everything: Her Marriage, Her Best Friend, And Her Sense Of Self. But By Her 40th Birthday Party, Grace Will Realize Who And What Matter Most. With Laughter. With Tears. With Grace. On Grace Embraces Themes That Will Resonate With Women Who Own At Least One Pair Of Spanx: Fidelity, Friendship, And Finding Oneself At 40. Readers Love On Grace Because It's Soulful And Sweet, Sexy And Sad, Straight Up And Smart, And, Ultimately, Quite Satisfying.
82108
Rules for Aging: Resist Normal Impulses, Live Longer, Attain Perfection
Acclaimed and beloved prize-winning essayist Roger Rosenblatt has commented on most of the trends and events of our time. His columns in Time magazine and his commentaries on PBS's NewsHour with Jim L...ehrer have made him a household word and a trusted friend of millions. Now, at the dawn of a new millennium, Rosenblatt offers the American people a survival manual-fifty-four gems of funny, brilliant, wise, indispensable advice. It doesn't matter: Whatever you think matters-doesn't. Follow this rule, and it will add decades to your life. It does not matter if you are late, or early; if you are having a bad hair day, or a no hair day; if your boss looks at you cockeyed, or if you are cockeyed; if you don't get that promotion, or if you do. It doesn't matter. Nobody is thinking about you: Yes, I know, you are certain that your friends are becoming your enemies; that your grocer, garbageman, clergyman, sister-in-law, and your dog are all of the opinion that you have put on weight. You are also sure that everyone spends two-thirds of every day commenting on your moral disintegration, denigrating your work, plotting your murder. I promise you: Nobody is thinking about you. They are thinking about themselves-just like you. A book to savor, a book to keep, and a book for all ages.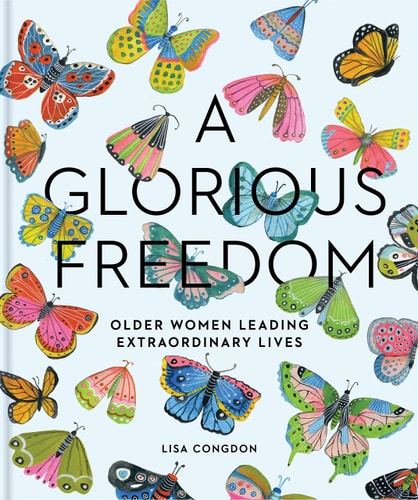 243830
A Glorious Freedom: Older Women Leading Extraordinary Lives (Gifts for Grandmothers, Books for Middle Age, Inspiring Gifts for Older Women)
Author And Artist Lisa Congdon Explores The Power Of Women Growing Older And Thriving. From Bestselling Authors Cheryl Strayed And Caroline Paul, To Super-model-turned-activist Christy Turlington And ...Advanced Style Icon Ilona Smithkin, Essays By And Interviews With Individuals Who Have Changed Careers, Found Creative Fulfillment, Discovered New Loves, Demonstrated Athletic Prowess, And Rejoiced In A True Sense Of Self; Profiles Of Women In History Who Accomplished Incredible Things At An Older Age; And Honest Quotations From A Diverse Field Of Inspirational Figures, Are All Lavishly Illustrated In Congdon's Signature Style.--back Cover. The Swell : An Essay / By Caroline Paul -- Profile Of Beatrice Wood -- Interview With Jennifer Hayden -- Profile Of Vera Wang -- Interview With Christy Turlington Burns -- Profile Of Louise Bourgeois -- Because Love Let Me Be : An Essay / By Jennifer Maerz -- Interview With Emily Kimball -- Profile Of Sensei Keiko Fukuda -- Roaring Over The Tiptoe : An Essay / By Heather Armstrong -- Interview With Stephanie Young -- Profile Of Laura Ingalls Wilder -- The Unexpected Exhilarating Freedom Of Being Single At 41 : An Essay / By Glynnis Macnicol -- Profile Of Minnie Pwerle -- Interview With Paola Gianturco -- Profile Of Julia Child -- True Roots : An Essay / By Ronnie Citron-fink -- Profile Of Mary Delany -- Interview With Cheryl Strayed -- Profile Of Sister Madonna Buder -- Interview With Zoe Ghahremani -- Girl, You Don't Know Nothing : An Essay / By Tara Rodden Robinson -- Profile Of Carmen Herrera -- Interview With Fay Westenhofer -- Profile Of Helen Gurley Brown -- Interview With Della Wells -- Profile Of Angela Morley -- When They Arrived : An Essay / By Shauna James Ahern -- Profile Of Eva Zeisel -- Interview With Ilona Royce Smithkin -- Profile Of Anna Arnold Hedgeman -- Interview With Debbie Millman -- Profile Of Grandma Moses -- Interview With Dara Torres -- Profile Of Katherine Johnson -- Are You With Me? : An Essay / By Chrissy Loader -- Profile Of Marguerite Duras -- Interview With Betty Reid Soskin. [edited By] Lisa Congdon. Includes Bibliographical References.
120305
This Is Getting Old: Zen Thoughts on Aging with Humor and Dignity
in This Intimate And Funny Collection Of Essays On The Sometimes Confusing, Sometimes Poignant, Sometimes Hilarious Condition Of Being A Woman Over Sixty, Susan Moon Keeps Her Sense Of Humor And She K...eeps Her Reader Fully Engaged. Among The Pieces She Has Included  Here Are An Essay On The Gratitude She Feels For Her Weakening Bones; Observations On Finding Herself Both An Orphan And A Matriarch Following The Death Of Her Mother; Musings On Her Tendency To Regret The Past; Thoughts On How Not To Be Afraid Of Loneliness; Appreciation For The Inner Tomboy; And Celebratory Advice On How To Regard Senior Moments As Opportunities To Be In The Here And Now. publishers Weekly in Her Mid-60s, Bay Area Zen Practitioner Moon, Former Editor Of The Buddhist Peace Fellowship's Turning Wheel Magazine, Writes, "i Wanted To Look Right Into The Face Of Oldness. What Is It?" Gentle Essays Are Grouped Into Three Sections: Mind/body, Relationships, And Spirit. Moon Uses Detail Vividly In Her Determination To Make Peace With The Many Failures Of Brain And Body (from Forgetting Her Social Security Number To Wondering If She'll Ever Have Sex Again), Though Not All Readers May Want To Follow Her Into The Intricacies Of Retinal Detachment And An Elderly Mother On A Ventilator. Her Best Writing Occurs When Memory, Emotion, And Spirit Coalesce As She Recovers Parts Of Herself Left Behind In Childhood Or Comes To Terms With Solitude. Overall, The Book Is Long On Dignity But A Bit Short On Both Zen And Humor, Focusing On Earnest Self-disclosure. But Moon's Honesty About The Inner And Outer Realities Of Aging Conveys An Urgent Reminder Of Inevitable Loss; Indeed, As She Reminds Us, "i Am Not Getting Old Alone." (june)
187575
How to Age
No description available